Continues its growth through strategic acquisition of projects and expertise
MINNEAPOLIS--Geronimo Energy announced today the acquisition of the project development portfolio of Midwest Wind Energy (MWE), including near term construction-ready projects in Illinois, Nebraska, and Wisconsin. The acquisition strengthens Geronimo's presence in the Nebraska and Wisconsin markets and brings it into the Illinois market for the first time. Geronimo has also welcomed numerous MWE employees to its team, where they will continue to develop and help market the projects that they have been fostering for the past few years.

"Midwest Wind Energy has shown its ability to develop viable wind projects while exhibiting the same dedication that we have towards helping rural communities, so this was a nice fit for both of our organizations," said Blake Nixon, president of Geronimo Energy. "The Midwest projects complement our portfolio very well and the employees that are joining our company will bring valuable perspective to our team."
"Geronimo is well positioned to advance these projects and to continue the track record of success that Midwest Wind Energy established in the central United States," said Stefan Noe, president of Midwest Wind Energy. "We are particularly pleased that our key staff will continue to be involved in these projects so the transition will be seamless for the landowners, local government officials, and utility partners in each project area."
About Geronimo Energy
Geronimo Energy (Geronimo), based in Edina, Minnesota, is a developer of utility-scale wind and solar energy projects throughout the United States. Geronimo has developed three operating wind farms, including the recently completed 200 MW Prairie Rose Wind Farm in southwestern Minnesota. Geronimo has a strategic partnership with Enel Green Power, the second largest producer of renewable energy in the world, which gives it the added expertise and capital strength necessary to deliver on projects for customers and communities. For more information about Geronimo Energy, please visit www.geronimoenergy.com.
Featured Product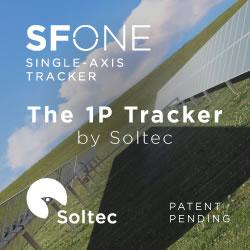 Soltec manufactures and supplies solar trackers designed and proven for extreme climate conditions, which is an ideal solution for any region's environment. Soltec's trackers are self-powered, requiring no additional PV module or grid-powered connection. Bifacial modules collect energy on both the front and rear sides, capturing reflected irradiance from the ground surface under and around the tracker and from other modules. Depending on site conditions, bifacial yield-gain can reach +30 percent.