Continues its growth through strategic acquisition of projects and expertise
MINNEAPOLIS--Geronimo Energy announced today the acquisition of the project development portfolio of Midwest Wind Energy (MWE), including near term construction-ready projects in Illinois, Nebraska, and Wisconsin. The acquisition strengthens Geronimo's presence in the Nebraska and Wisconsin markets and brings it into the Illinois market for the first time. Geronimo has also welcomed numerous MWE employees to its team, where they will continue to develop and help market the projects that they have been fostering for the past few years.

"Midwest Wind Energy has shown its ability to develop viable wind projects while exhibiting the same dedication that we have towards helping rural communities, so this was a nice fit for both of our organizations," said Blake Nixon, president of Geronimo Energy. "The Midwest projects complement our portfolio very well and the employees that are joining our company will bring valuable perspective to our team."
"Geronimo is well positioned to advance these projects and to continue the track record of success that Midwest Wind Energy established in the central United States," said Stefan Noe, president of Midwest Wind Energy. "We are particularly pleased that our key staff will continue to be involved in these projects so the transition will be seamless for the landowners, local government officials, and utility partners in each project area."
About Geronimo Energy
Geronimo Energy (Geronimo), based in Edina, Minnesota, is a developer of utility-scale wind and solar energy projects throughout the United States. Geronimo has developed three operating wind farms, including the recently completed 200 MW Prairie Rose Wind Farm in southwestern Minnesota. Geronimo has a strategic partnership with Enel Green Power, the second largest producer of renewable energy in the world, which gives it the added expertise and capital strength necessary to deliver on projects for customers and communities. For more information about Geronimo Energy, please visit www.geronimoenergy.com.
Featured Product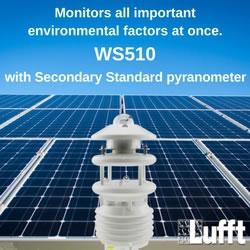 Professional weather sensors form the heart of large solar plants supporting their operation and performance. Lufft was the first manufacturer to combine several sensors in one housing, bringing the largest multiparameter weather sensor family with 19 members into being. Many of them are well-suited for solar site assessment and continuous monitoring. The most commonly used one is the WS600 delivering data on temperature, air pressure, wind, relative humidity and precipitation. Through its open protocol, it can easily be attached to radiation sensors e.g. from Kipp&Zonen. Other models have an integrated Silicon, Second Class or Secondary Standard radiation sensor.