Fuel cells are ready for the automotive industry and other mass markets.
LONDON--Intelligent Energy today announced that its proprietary fuel cell technology is providing leading levels of power output and performance for a number of its automotive customers, with the company's fuel cell stacks demonstrating continuous volumetric and gravimetric power densities of 3.7 kW/L and 2.5 kW/kg, respectively.

"We believe that our fuel cell stack technology has achieved industry leading power density performance. These interim results are only part way along our technology roadmap and much more is still to come with further improvements in the pipeline", Intelligent Energy's Motive Division Managing Director, James Batchelor commented. "Importantly, we deliver these benchmark performance levels using our own patented technology which has been designed for high volume, low-cost manufacturing. We provide our technology to existing clients as they progress towards series production and continue to work with new automotive customers and OEMs under a variety of commercial arrangements" he added.
Intelligent Energy is a global leader in fuel cell design and development, with a range of high performance, compact, cost-effective and scalable technology focused on its target market sectors. In 2012, the company formed a joint venture in Japan with the Suzuki Motor Corporation to manufacture fuel cells for a range of automotive and other sectors. In February of this year, within 12 months of its incorporation, the joint venture, SMILE FC System, announced the completion of the first ready-to-scale production line.
Dr Henri Winand, Chief Executive at Intelligent Energy, said: "Power-dense power sources are critical in a range of applications across our automotive, consumer electronics and stationary power markets. In particular, fuel cell electric vehicles provide one of the most practical and efficient means of reducing road transport carbon emissions, where powerful, yet efficient, power systems are much needed. Developing class-leading technology, designed for series manufacture, offers our customers both reduced time-to-market and lower commercialisation scale-up risks. It clearly demonstrates that our fuel cells are ready for the automotive industry and other mass markets."
About Intelligent Energy
Intelligent Energy delivers efficient and clean energy technology for the global consumer electronics, automotive and stationary power markets – from compact energy packs for mobile devices, to power-trains for zero-emission vehicles, and stationary power units for the always-on infrastructure.
Our unique technology architecture is used by global blue chip companies to create differentiated, cost-efficient fuel cell power systems for mass market applications. It enables Intelligent Energy and our industry partners to solve the challenges of continuous power and productivity, by creating convenient everyday energy solutions to power your life.
Intelligent Energy operates globally, with offices in the Americas, Europe and Asia.
Featured Product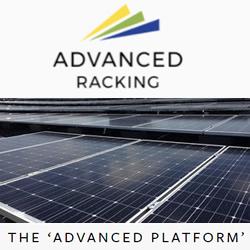 The 'Advanced Platform' simplifies the installation process by using universal mounting hardware that works perfectly across all roof types. Smart roof connection kits then connect to the specific roof's surface. The Advanced Platform is versatile: Our common design can be your single solution for all roof types.