The CSP Today USA Awards ceremony takes place on 26 June in Las Vegas, and CSP developers, EPC groups, suppliers and technology providers can now be nominated.
March 28, 2013

2013 is set to be a monumental year for the concentrated solar power (CSP) industry in the United States, with 1312MW of CSP plants set to be commissioned. This will increase the country's total capacity by a staggering 120%, to 1889MW, making the United States a world leader in operational CSP plants.
CSP Today has chosen the next CSP Today USA Summit (26-27 June, Las Vegas) to recognize the achievements of the industry, and at the awards key stakeholders will be acknowledged for their achievements in one of five categories: CSP USA Technology and Supplier Award, CSP USA Engineering Performance Award, CSP USA Dispatchability Solution Award, CSP USA Responsible Business Award and the Industry Choice Award.
Jack Ahearne, Global Events Director at CSP Today, said at the opening of nominations that "CSP Today is excited to launch these highly regarded awards which will celebrate the significant progress that has been made by the CSP industry in the US. I am particularly excited to launch the CSP Dispatchability Solution Award, which will highlight the important steps being taken to improve the thermal energy storage capability of CSP, a significant feature that will drive projects forward for years to come".
All eyes will be on the CSP Today USA 2013 Awards when the entry for nominations closes on 19 April and the finalists are announced on 1 May.
The awards are open to all industry stakeholders to nominate until 19 April at http://www.csptoday.com/usa/awards-overview.php
Featured Product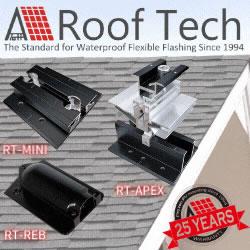 Now Roof Tech brings you the most innovative, watertight mounting systems ever developed for solar photovoltaic systems. Designed and manufactured exclusively for us by Japan's longtime leader in roofing technologies, Roof Tech products are 100% code-compliant and offer fast, simple installation and huge savings on shipping costs due to their compact, rail-less design. Learn more about our full line of versatile PV mounting solutions now available for residential installations. The next generation in rooftop solar mounting solutions."