"DC Fast Charging Equipment for Electric Vehicles"
BOULDER, Colo.--(BUSINESS WIRE)--Direct current (DC) fast charging technology promises drastic reductions in the time needed to restore a battery electric vehicle (BEV) to full charge. The barriers to adoption, however, are significant: installation of DC charging stations is still more expensive than conventional alternating current (AC) systems, and slower than expected sales of electric vehicles in general have caused automakers to hesitate in embracing the most advanced technology. Nevertheless, according to a new report from Navigant Research, shipments of DC fast charging equipment will grow steadily over the remainder of this decade, reaching nearly 100,000 units a year by 2020.

"DC Fast Charging Equipment for Electric Vehicles"
"Accelerating sales of BEVs have sparked a major uptick in deployments of EV charging stations, and a corresponding surge in the number and types of charging equipment on the market," says Richard Martin, editorial director with Navigant Research. "Several automakers will bring out new models in 2013 that are compatible with DC fast charging, and the expanding availability of charging infrastructure has the potential to help drive growth in the BEV market as a whole."
At the same time, the market for DC fast charging is experiencing a standards conflict. A new connector that combines AC and DC fast charging in one unit, based on a standard developed by the Society of Automotive Engineers, was finalized in October 2012. Known as the combo connector, that protocol is now in competition with an earlier system known as CHAdeMO, which was developed by a group of Japanese automakers in association with the Tokyo Electric Power Company and which has been adopted to a limited degree around the world.
The report, "DC Fast Charging Equipment for Electric Vehicles", examines the global market for DC fast charging, with particular emphasis on emerging business models and technology issues. Profiles of key players in the DC fast charging sector are included, along with market forecasts for shipments of DC fast charging equipment. The study also includes conclusions and recommendations for manufacturers of electric vehicle charging equipment as well as BEV makers. An Executive Summary of the report is available for free download on the Navigant Research website.
About Navigant Research
Navigant Research, a part of Navigant Consulting, Inc., provides in-depth analysis of global clean technology markets. The team's research methodology combines supply-side industry analysis, end-user primary research and demand assessment, and deep examination of technology trends to provide a comprehensive view of the Smart Energy, Smart Utilities, Smart Transportation, Smart Industry, and Smart Buildings sectors. Additional information about Navigant Research can be found at www.navigantresearch.com.
About Navigant
Navigant (NYSE: NCI) is a specialized, global expert services firm dedicated to assisting clients in creating and protecting value in the face of critical business risks and opportunities. Through senior level engagement with clients, Navigant professionals combine technical expertise in Disputes and Investigations, Economics, Financial Advisory and Management Consulting, with business pragmatism in the highly regulated Construction, Energy, Financial Services and Healthcare industries to support clients in addressing their most critical business needs. More information about Navigant can be found at www.navigant.com.
Featured Product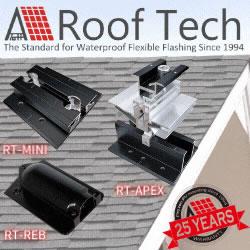 Now Roof Tech brings you the most innovative, watertight mounting systems ever developed for solar photovoltaic systems. Designed and manufactured exclusively for us by Japan's longtime leader in roofing technologies, Roof Tech products are 100% code-compliant and offer fast, simple installation and huge savings on shipping costs due to their compact, rail-less design. Learn more about our full line of versatile PV mounting solutions now available for residential installations. The next generation in rooftop solar mounting solutions."