Partnership underscores Schindler's commitment to developing sustainable mobility technology
MORRISTOWN, N.J.--Schindler, a leading global elevator and escalator provider, is providing significant technical expertise and financial support as a main partner of Solar Impulse, the zero fuel airplane aiming to fly around the world propelled only by solar energy. The Solar Impulse project underscores Schindler's commitment to reimagining sustainable mobility. With the "Across America" Mission flights beginning in May, another milestone is trying to be achieved.

As demands on mobility grow and fuel resources dwindle and become more expensive, mankind's future lies in using clean, sustainable energy from renewable sources.
The solar-powered airplane takes off from Moffett Airport outside San Francisco on May 1st before stopping in Phoenix, Dallas, Atlanta or St. Louis, Washington, D.C. and New York City. The Solar Impulse team, alongside contributing Schindler engineers, is already developing targeted innovations that revolutionize the structure of materials, improving their robustness and reducing their weight. Such innovations can lead to significant reductions in energy consumption, which in elevators, account for one of the largest parts of their environmental impact.
"This partnership is the perfect embodiment of Schindler's ongoing investment in innovative technology for sustainable mobility," said Bill Fiacco, president marketing and sales, Schindler Elevator Corporation. "Our long-standing commitment to trailblazing technology that safely moves more people with less energy is one we share with Solar Impulse. The insights we gain from working together with the top researchers and technical experts in their fields bring us closer than ever to achieving this common goal."
Schindler's destination dispatching system, machine room-less elevators, regenerative drives and variable speed escalator technology are industry benchmarks in innovation. The company's very latest development, an elevator powered exclusively by solar energy, once again highlights Schindler's revolutionary and forward-looking spirit.
"Solar Impulse is an excellent example of innovative sustainability and grass-roots entrepreneurship", said Alfred N. Schindler, Chairman of the Schindler Group. "This project is not only about saving and conserving energy; it's all about working smarter instead of working harder."
Bertrand Piccard, Initiator and Chairman of Solar Impulse welcomes Schindler's involvement as an important illustration of how forward-looking companies are approaching sustainable development. "Schindler is not simply a partner of Solar Impulse, it is the proof that global companies are increasingly understanding the enormous potential of Cleantech in industrial and economic development, and in the creation of jobs."
About Schindler Elevator Corporation
Schindler Elevator Corporation is the North American operation of the Switzerland-based Schindler Group, a leading global mobility provider with approximately 44,000 employees operating in more than 100 countries. Schindler supports sustainable urban development with safe, reliable and ecologically sound mobility solutions and its equipment moves one billion people every day all over the world. In 2011 and 2012, Schindler was named one of Forbes Magazine's 100 Most Innovative Companies. For additional information about Schindler Elevator Corporation, visit the company's website and follow us on social media for the latest news and updates at www.us.schindler.com.
About Solar Impulse
Solar Impulse HB-SIA, the first aircraft designed to fly night and day without fuel or polluting emissions, demonstrating the enormous potential of renewable energy. Seven years of intense hard work, calculations, simulations and tests by a 70-person team and 80 partners have gone into completing this totally new carbon fiber aircraft, with the wingspan of an Airbus A340 (63.4m) and the weight of an average family car (1600 kg). Never before has such a large and lightweight aircraft been built. Nearly 12,000 solar cells, integrated into the wing, feed renewable energy to the four electric motors with a maximum power of 10 HP each, and by day also charge the lithium-polymer batteries (400 kg) which enable the aircraft to fly at night. The Solar Impulse project is supported, by among others: Main Partners Solvay, Omega, Deutsche Bank and Schindler; Official Partner, Bayer Material Science; EPFL, Official Scientific Adviser; Altran, Engineering Partner; and, Dassault-Aviation, Aeronautical Adviser.
Featured Product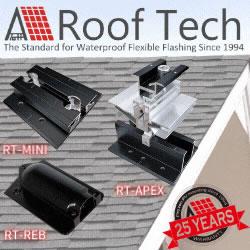 Now Roof Tech brings you the most innovative, watertight mounting systems ever developed for solar photovoltaic systems. Designed and manufactured exclusively for us by Japan's longtime leader in roofing technologies, Roof Tech products are 100% code-compliant and offer fast, simple installation and huge savings on shipping costs due to their compact, rail-less design. Learn more about our full line of versatile PV mounting solutions now available for residential installations. The next generation in rooftop solar mounting solutions."