Walgreens ranked as a leading retailer of utilizing renewable energy with 134 locations nationwide using solar electricity
AURORA, Colo., April 1, 2013 – Walgreens (NYSE: WAG) (Nasdaq: WAG), the nation's largest drugstore chain, today announced an expansion of its renewable energy initiative to Colorado with SolarCity® (Nasdaq: SCTY), a leading provider of clean energy. SolarCity will implement solar systems at 22 Walgreens stores across 14 cities in Colorado in the coming months. The new solar systems cumulatively will reduce more than 47.5 million pounds of carbon dioxide (CO2) emissions over the next 20 years, which is comparable to planting 25,711 trees.*

Walgreens and SolarCity celebrated the completion of the first in a series of solar installations at the retail store at 24250 E. Smoky Hill Road in the City of Aurora. Honorable guests including Rep. Mike Coffman and Aurora Mayor Steve Hogan commemorated Walgreens' commitment to the environment with a ribbon-cutting ceremony at a gathering of Walgreens employees, patrons, Xcel Energy and SolarCity representatives. Walgreens is now ranked as the second leading retailer in the U.S. in utilization of renewable energy at its stores, according to Solar Energy Industries Association (SEIA).**
"A strong commitment to the local community is one of our company's core values," said Menno Enters, director of Energy and Sustainability at Walgreens. "SolarCity is helping us contribute to the health of the local communities we operate in by providing us with clean energy as well as contributing to the local economy in Colorado."
"Colorado has been at the forefront of energy conservation," said Congressman Coffman, "and I'm happy to see that SolarCity and Walgreens have teamed up to help meet our state's renewable energy goals."
Walgreens began implementing solar in 2007 at many of its retail stores across the country. The new rollout in Colorado brings Walgreens closer to reaching the U.S. Department of Energy's (DOE) Better Buildings Challenge. The company has committed to reducing its energy use by 20 percent by the year 2020 across 125 million square feet of its retail floor space.
"SolarCity is proud to support Walgreens' renewable energy goals that have made it one of the greenest retailers today," said Eric Wittenberg, SolarCity's regional vice president of Colorado. "The adoption of solar by companies like Walgreens also has an economic impact in the community as it drives the growth of local jobs. Since we launched our services in Colorado in 2009, our two local offices in Denver and Parker now employ more than 180 people."
* calculations based on data from Environmental Protection Agency (EPA)
** according to SEIA and GTM U.S. Solar Market Insight Report
About Walgreens
As the nation's largest drugstore chain with fiscal 2012 sales of $72 billion, Walgreens (www.walgreens.com) vision is to become America's first choice for health and daily living. Each day, Walgreens provides more than 6 million customers the most convenient, multichannel access to consumer goods and services and trusted, cost-effective pharmacy, health and wellness services and advice in communities across America. Walgreens scope of pharmacy services includes retail, specialty, infusion, medical facility and mail service, along with respiratory services. These services improve health outcomes and lower costs for payers including employers, managed care organizations, health systems, pharmacy benefit managers and the public sector. The company operates 8,057 drugstores in all 50 states, the District of Columbia and Puerto Rico. Take Care Health Systems is a Walgreens subsidiary that is the largest and most comprehensive manager of worksite health and wellness centers and in-store convenient care clinics, with more than 700 locations throughout the country.
About SolarCity
SolarCity® (NASDAQ: SCTY) provides clean energy. The company has disrupted the century-old energy industry by providing renewable electricity directly to homeowners, businesses and government organizations for less than they spend on utility bills. SolarCity gives customers control of their energy costs to protect them from rising rates. The company offers solar power, energy efficiency and electric vehicle services, and makes clean energy easy by taking care of everything from design and permitting to monitoring and maintenance. SolarCity currently serves 14 states and signs a new customer every five minutes. Visit the company online at www.solarcity.com and follow the company on Facebook & Twitter.
Featured Product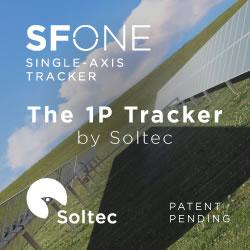 Soltec manufactures and supplies solar trackers designed and proven for extreme climate conditions, which is an ideal solution for any region's environment. Soltec's trackers are self-powered, requiring no additional PV module or grid-powered connection. Bifacial modules collect energy on both the front and rear sides, capturing reflected irradiance from the ground surface under and around the tracker and from other modules. Depending on site conditions, bifacial yield-gain can reach +30 percent.