New Products Deliver Unsurpassed Performance, Reliability and Aesthetics
SAN JOSE, Calif., April 3, 2013 -- SunPower Corp. (NASDAQ: SPWR), a global solar energy and technology provider, today introduced its SunPower X-Series Solar Panels (X-Series), a new product line for the residential market that offers an unprecedented 21.5 percent efficiency. The X-Series delivers more energy, higher reliability and superior aesthetics than conventional solar panels. The new world-record efficiency of this product line has received third-party validation by the National Renewable Energy Laboratory (NREL).

The X-Series is made with SunPower's third-generation Maxeon® solar cells which are built on a solid copper foundation for high reliability and performance. This foundation makes them virtually impervious to the corrosion and cracking that typically degrade conventional panels. As a result, SunPower solar panels are backed by the industry's first combined 25-year product and power warranty.
"Our research and development teams have been working diligently to surpass the high performance standards set by our SunPower E-Series Solar Panels that are built with our second-generation solar cells. Today, we are proud to announce the world-record efficiency X-Series product line," said SunPower CEO Tom Werner . "SunPower has set the bar once again, as we continue to beat our own efficiency records, while delivering the most reliable solar technology on the market."
The X-Series delivers approximately eight to 10 percent more energy per rated watt when compared with conventional solar panels. Features include:
*High energy output with no light induced degradation
*Better low-light and spectral response, generating electricity earlier in the morning and longer in the evening
*Low temperature coefficient, allowing for more electricity generation on hot rooftops
The X-Series surpasses the performance of the SunPower E-Series Solar Panels, which placed first, second and third in the 2012 testing conducted by third-party Photon International Magazine for its annual field performance test. The additional energy generated, along with the high efficiency and reliability delivered by the X-Series, results in approximately 75 percent more energy production over the first 25 years, when compared to a conventional solar system covering the same sized roof.
With the sleek appearance of a jet-black glass panel with a black frame and all-back contact solar cells, the SunPower Signature™ Black design allows the panels to blend seamlessly into the rooftop.
The new X-Series is now available in a 250 watt small format and a 345 watt standard size format for the residential market, and can be ordered in the U.S. via SunPower's North American dealer network. The X-Series will be available in Europe later this month.
X-Series joins the SunPower E20 Series Solar Panels, offering customers a choice of high efficiency SunPower products.
About SunPower
SunPower Corp. (NASDAQ: SPWR) designs, manufactures and delivers the highest efficiency, highest reliability solar panels and systems available today. Residential, business, government and utility customers rely on the company's quarter century of experience and guaranteed performance to provide maximum return on investment throughout the life of the solar system. Headquartered in San Jose, Calif., SunPower has offices in North America, Europe, Australia, Africa and Asia. For more information about the new SunPower X-Series Solar Panels or the company, visit www.sunpowercorp.com.
Featured Product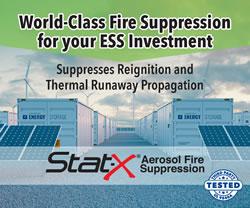 Stat-X® condensed aerosol fire suppression is a solution for energy storage systems (ESS) and battery energy storage systems (BESS) applications. Our Stat-X condensed aerosol fire extinguishing product was tested for efficacy in suppressing li-ion battery fires. It was found that the product successfully extinguished single and double cell battery fires. This testing was conducted in parallel with a large battery fire testing program on behalf of a large energy storage company.