Vivint Solar chooses Enphase as 2013 inverter supplier
PETALUMA, Calif.--Enphase Energy (Nasdaq: ENPH) today announced the renewal of its relationship with Vivint Solar, Inc. to be their inverter solution for 2013. Vivint Solar is an affiliate of Vivint Inc., a leading provider of home technology services in North America.

"We are delighted to continue building off our powerful strategic relationship with Vivint Solar. For over a year-and-a-half, our advanced inverter technology, coupled with Vivint Solar's unique go-to-market, has helped accelerate them toward their goal of becoming the top U.S. installer of residential rooftop solar systems," said Jeff Loebbaka, senior vice president of worldwide sales and field operations of Enphase Energy.
Vivint Solar customers save money on energy through a power purchase agreement (PPA) in which customers agree to buy the power generated by a solar photovoltaic system installed on their home, at rates that are generally lower than their local utility. In exchange, Vivint Solar designs, installs, operates and maintains the system with no additional out-of-pocket costs for the customers. This business model provides homeowners the benefits of renewable solar energy without a large, upfront investment.
"We are focused on nationwide expansion of our affordable solar offering, and we adopted Enphase early on because of the value their inverter solution delivers," said Dan Rock, vice president of installs of Vivint Solar. "Enphase inverters provide flexibility to Vivint Solar's installation crews and provide Vivint Solar's customers with more efficient solar energy systems, resulting in enhanced savings to our customers."
Vivint Solar currently operates in California, Hawaii, Maryland, Massachusetts, New Jersey, New York, and Washington D.C. For more information on Vivint Solar's products and services, visit www.vivintsolar.com.
The Enphase Microinverter System offers a revolutionary new approach to the installation, operation and maintenance of solar energy systems. Enphase Microinverters, the Envoy Communications Gateway and Enlighten web-based monitoring and analysis software work together to deliver increased energy harvest and unparalleled solar system intelligence. To date, Enphase has shipped over 3 million microinverters and is selling into ten countries across Europe, North America and Asia Pacific.
About Vivint
Vivint is a leading provider of home technology services in North America. Vivint's technology-based platform integrates a wide range of wireless features and components that deliver simple, affordable home security, energy management, home automation, and solar solutions. In 2011, Vivint's Home Automation package and Advanced Security package received a Consumers Digest "Best Buy" rating. Dedicated to protecting families, increasing energy efficiency, and simplifying lives, Vivint has more than 13 years of experience and supports over 700,000 customers throughout the United States and Canada. For more information, visit www.vivint.com.
About Vivint Solar
Vivint Solar is a leading provider of simple, affordable solar solutions and one of the fastest growing residential solar power providers in North America. As an early adopter of the power purchase agreement (PPA) model, Vivint Solar designs, installs, and maintains cost-effective solar energy systems, allowing consumers to enjoy the benefits of solar with little to no up-front costs. The company is dedicated to providing superior service and support while helping consumers save money, gain energy independence, and go green. For more information, visit www.vivintsolar.com.
About Enphase Energy, Inc.
Enphase Energy delivers microinverter technology for the solar industry that increases energy production, simplifies design and installation, improves system uptime and reliability, reduces fire safety risk and provides a platform for intelligent energy management. Our semiconductor-based microinverter system converts energy at the individual solar module level and brings a systems-based, high technology approach to solar energy generation. Connect with Enphase on Facebook and follow us on Twitter. www.enphase.com
Featured Product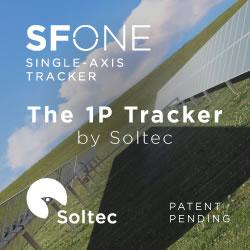 SFOne is the 1P single-axis tracker by Soltec. This tracker combines the mechanical simplicity with the extraordinary expertise of Soltec for more than 18 years. Specially designed for larger 72 an 78 cell modules, this tracker is self-powered thanks to its dedicated module, which results into a lower cost-operational power supply. The SFOne has a 5% less piles than standard competitor, what reduces a 75% the labor time.