Turbine market gains as governments turn to large hydro power projects to reduce dependence on fossil fuel
BUENOS AIRES, Argentina, April 3, 2013 -- The large hydro turbine (LHT) market in Latin America is all set to soar on the back of economic growth in developing countries and use of the hitherto untapped resources of tropical and subtropical rivers. The biggest push for the LHT market will come from Brazil's concerted energy planning and the ongoing construction of large hydropower projects aimed at sustaining the economic and demographic growth.

New analysis from Frost & Sullivan (http://www.energy.frost.com), Large Hydro Turbine Market in Latin America, finds that the market earned revenues of $112.6 million in 2012 and estimates this to reach $341.5 million in 2017, at a compound annual growth rate of 16.9 percent.
"Infrastructure improvements in the form of large hydro power plants (HPPs) are vital to not only meet the electricity demand of a growing economy, but also to generate jobs and usher in development in remote areas," said Frost & Sullivan Energy & Environmental Research Analyst Gustavo Stainoh . "Government policies that promote hydropower generation have given a fillip to the hydropower market and consequently, the LHT market."
Further, the competitive structure and flexibility of manufacturers in Latin America enable them to form partnerships and keep prices competitive in the electromechanical components segment, especially for turbines and generators.
Despite the encouragement from the government, the hydropower market's long-term prospects are uncertain due to the volatility of financing for projects in the early planning phase. Financing difficulties also restrain renewable energy developments in Latin America.
Once the energy market obtains steady funding, governments might seek greater representation from the wind power segment instead of restricting itself to hydropower. Naturally, some hydro turbine manufacturers are already making forays into the wind turbine market.
Large hydro power projects attract higher investments, multilateral loans as well as political focus. Brazil is expected to control 53 percent of the large hydro turbine market growth until 2017, with 14.7 gigawatts (GW) of commissioned installed capacity. It is expected to gain an additional 14.3 GW in the long term and bolster the turbine market.
Once HPP construction stabilizes in Brazil, LHT procurement will move to the Andean Region and Central America, followed by Mexico and the Southern Cone countries.
"To succeed, LHT original equipment manufacturers have to possess the ability to self-finance, a solid and local structure of suppliers, as well as flexible production by means of differentiated capabilities in the region," noted Stainoh. "As hydropower projects are scarce, it is crucial for turbine suppliers to offer a wide portfolio of products and services, namely electromechanical and civil engineering contracts."
If you are interested in more information on this research, please send an email to Francesca Valente , Corporate Communications, at francesca.valente@frost.com, with your full name, company name, job title, telephone number, company email address, company website, city, state and country.
Large Hydro Turbine Market in Latin America is part of the Energy & Power Growth Partnership Service program. Frost & Sullivan's related research services include: Southern Cone Solar and Wind Markets, Andean Region Wind Turbine Market, Argentinean Energy Markets, and Chilean Electricity Market. All research services included in subscriptions provide detailed market opportunities and industry trends evaluated following extensive interviews with market participants.
About Frost & Sullivan
Frost & Sullivan, the Growth Partnership Company, works in collaboration with clients to leverage visionary innovation that addresses the global challenges and related growth opportunities that will make or break today's market participants.
Our "Growth Partnership" supports clients by addressing these opportunities and incorporating two key elements driving visionary innovation: The Integrated Value Proposition and The Partnership Infrastructure.
The Integrated Value Proposition provides support to our clients throughout all phases of their journey to visionary innovation including: research, analysis, strategy, vision, innovation and implementation.
The Partnership Infrastructure is entirely unique as it constructs the foundation upon which visionary innovation becomes possible. This includes our 360 degree research, comprehensive industry coverage, career best practices as well as our global footprint of more than 40 offices.
For more than 50 years, we have been developing growth strategies for the global 1000, emerging businesses, the public sector and the investment community. Is your organization prepared for the next profound wave of industry convergence, disruptive technologies, increasing competitive intensity, Mega Trends, breakthrough best practices, changing customer dynamics and emerging economies?
Featured Product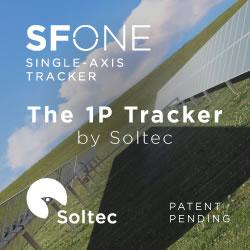 SFOne is the 1P single-axis tracker by Soltec. This tracker combines the mechanical simplicity with the extraordinary expertise of Soltec for more than 18 years. Specially designed for larger 72 an 78 cell modules, this tracker is self-powered thanks to its dedicated module, which results into a lower cost-operational power supply. The SFOne has a 5% less piles than standard competitor, what reduces a 75% the labor time.