Sunlabob to supply solar PV materials for off-grid electrification of schools, homes, businesses and community centers
VIENTIANE, LAOS (April 8, 2013) – Sunlabob Renewable Energy, the Laos-based social enterprise specializing in renewable energy and clean water projects in developing parts of the world, today announced it has been awarded a contract for the supply of solar PV equipment to be used in off-grid areas of Kiribati, one of the least-developed island states in the Pacific region. The installations – funded by the European Development Fund and managed by the Government of the Republic of Kiribati – will enable a reliable electricity supply in training facilities, schools, community centers, small businesses and homes throughout the small-island nation that is highly dependent on petroleum imports for power generation.

"Empowering off-grid areas with renewable energy not only enables dependable and affordable electricity, but also paves a path toward social and economic development for the people of Kiribati," said Andy Schroeter, founder and CEO, Sunlabob, which has also recently completed off-grid solar PV projects in the Marshall Islands and Micronesia.
On Kiribati's outer islands – where more than half of households reside – access to electricity is approximately 30 percent. The Pacific region meets around 80 percent of its electricity generation needs from imported fossil fuels
Due to the Pacific island region's low electrification rates, heavy reliance on imported fuel and heightened vulnerability to climate change, the European Commission has dedicated more than $36 million to the development of renewable energy resources during the 2008-13 period. In March 2013, the Pacific region secured pledges of more than $530 million in funding for renewable energy projects from several countries and multilateral donor banks.
As part of the contract, Sunlabob will supply solar PV and related equipment for a variety of decentralized solar energy installations, including:
• 2,188 solar home systems
• 120 solar home systems for teachers
• 20 solar training workshop centers
• 100 small businesses
• 30 community halls
• 7 schools
• 1 village mini-grid
• 1 grid connected system
The newly-awarded supply contracts in Kiribati are not Sunlabob's first experience in the Pacific region.
In 2012, Sunlabob supplied and delivered 1,500 solar home systems in the Marshall Islands, as well as secured a contract to supply 3,500 solar-powered lanterns and 70 lantern charging stations in Micronesia.
###
About Sunlabob Renewable Energy Ltd.
Sunlabob Renewable Energy, Ltd. is a Laos-based social enterprise specializing in renewable energy and clean water projects in developing areas of the world. The company offers a range of on- and off-grid products and services, ranging from hybrid mini-grids and solar home systems, to energy efficiency consulting and water pumping and purification. Established in 2001, Sunlabob is recognized globally for its innovative operational and financing models to enable clean energy and water access in remote areas of Southeast Asia, Africa, India and the Pacific Islands
For more information please visit www.sunlabob.com. You can also keep in touch with Sunlabob through https://twitter.com/Sunlaboband http://www.facebook.com/Sunlabob.
Featured Product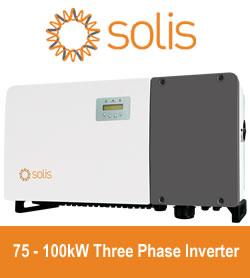 Solis75kW - 100kW series high-power string inverters are widely used in industrial and commercial rooftops. Solis's new three-phase string inverter is the first choice for industrial and commercial photovoltaics. 75-100kW three phase series string inverter have Maximum 28 strings input, support "Y" type connection in DC side. Maximum string input current 13A, support bifacial modules access.Supports anti-PID function to improve system efficiency.