Policy Deadlines and Seasonality Create Strong Demand Cycles in China, While Other Markets Offer a More Stable Outlook
Santa Clara, Calif., April 8, 2013 —Seasonality and policy incentive deadlines from the end-market in China drove global solar photovoltaic (PV) demand down to 6.2 gigawatts (GW) in 1Q'13, down 23% Q/Q. Over the next four quarters, China will account for more than 20% of global PV market demand, ranging between 0.9 and 3.6 GW, according to the new NPD Solarbuzz Quarterly report, but its volatile PV demand cycles will create new supply challenges for leading PV manufacturers.

"Chinese solar PV demand was the key global driver at the end of 2012, which helped to deplete upstream inventory levels that had accumulated over previous quarters," said Michael Barker, senior analyst at NPD Solarbuzz. "However, extreme swings in PV demand from China over the next year will make capacity utilization and inventory control particularly challenging. At the same time, demand from other global PV markets is beginning to offer predictable quarterly demand levels that are essential for long-term planning."
Germany, Italy, France, and the UK will lead solar PV demand in Europe over the next four quarters, accounting for over 65% of regional PV demand. European solar PV demand will no longer be dominated by policy deadlines, so demand in that region will be relatively flat Q/Q. Over the next four quarters, demand from European end-markets is expected to range from 2.7 to 3.2 GW.
PV demand outside China and Europe will be driven by the U.S. and Japan, which exhibit different phases of demand. The Japanese market is strongest during the first half of the year and the U.S. market is strongest during the second half. Combined with new demand from the emerging PV markets, such as the Middle East and Southeast Asia, this rest-of-world (ROW) group will also provide stable PV demand over the next four quarters, ranging from 2.5 to 3.6 GW each quarter.
"Volatile demand swings will continue to hamper the growth of the solar PV industry over the next four quarters, with production and shipment schedules having to be adjusted each quarter," added Barker. "These effects will have the most profound impact on suppliers that rely upon China as the dominant end-market for shipments. Suppliers that are focused on Europe, Japan, and the US will see more stable quarterly demand trends, and will be able to plan production schedules with far greater visibility."
Figure 1: Phases of PV Demand from China, Europe and Rest-of-the-World
Source: NPD Solarbuzz Quarterly report, March 2013
About NPD Solarbuzz
NPD Solarbuzz, part of The NPD Group, offers Marketbuzz, Solarbuzz Quarterly, and annual downstream photovoltaic (PV) market reports, providing the solar energy and PV industries with global historical and forecast data for the PV supply chain. For more information, visit www.solarbuzz.com or follow us on Twitter at @Solarbuzz.
About The NPD Group, Inc.
The NPD Group provides global information and advisory services to drive better business decisions. By combining unique data assets with unmatched industry expertise, we help our clients track their markets, understand consumers, and drive profitable growth. Sectors covered include automotive, beauty, entertainment, fashion, food/foodservice, home, office supplies, sports, technology, toys, video games, and wireless. For more information, visit npd.com and npdgroupblog.com. Follow us on Twitter: @npdtech and @npdgroup.
Featured Product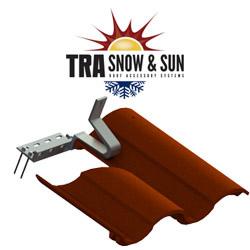 You haven't installed a tile mount that is easier to install than the Solar Tile Mount manufactured by TRA Snow and Sun. Solar Tile Mount is used on all tile roof profiles: flat, mid, and high. It is made in the USA of aluminum alloy for strength and excellent corrosion resistance. Solar Tile Mount is built to allow more ease in installation with more rise from the tile surface to the rail for better air flow below panels. The adjustable base is longer than most allowing attachment 6" to the left or right to have the bracket in the base of the pan of the tile and still fasten to the rafter. Solar Tile Mount is adjustable for counter batten systems from ¾" to 3". The horizontal rail is directly above base fasteners giving greater uplift resistance than any other system. For superior waterproofing apply TRA Snow and Sun's butyl backed VersaFlash aluminum flashing. No tile flashing is needed on top of the tile for greater labor and material cost savings.