IHS foresees the PV industry to continue along its double-digit growth path in 2013
London, U.K. (April 8, 2013) – Global photovoltaic (PV) installations are forecast to exceed 35 gigawatts (GW) in 2013, equivalent to growth of 12 percent, according to recently released analysis from IHS (NYSE: IHS). IHS also reaffirmed its earlier prediction that global PV installations surpassed 30 GW in 2012, with final analysis showing that installations, in fact, grew 14 percent to reach 31.4 GW last year.

These findings and the latest PV demand projections for 2013 and beyond were recently issued by the IHS solar team, which comprises analysts from the IHS acquisitions of IMS Research, iSuppli, and Emerging Energy Research. Contrary to many other more pessimistic predictions for the industry, IHS foresees the PV industry to continue along its double-digit growth path in 2013 and to exceed 35 GW for the first time.
"We often see quite pessimistic forecasts at the start of each year for PV installations, due to a seasonal slowdown and talks of major incentive cuts as Europe reassesses its PV policy typically after yet another year of record growth," said Ash Sharma, senior director of solar research at IHS. "However, our analysis of more than 60 countries around the world shows that demand outside of Europe will more than compensate for the fall in the Continent, and installations will go on at any rate to hit 35 GW this year.".
Q4 '12 surge in Asia: a sign of things to come
Asia surged in the fourth quarter of 2012 and installed more than 4 GW during the period, an amount close to half the global total. Asia' importance to the global PV market is predicted to continue, according to IHS, and Asia in 2013 will become the largest region for PV installations for the first time in 10 years. PV installations in Asia are forecast to grow to 15 GW this year, in the process exceeding Europe, which is predicted to drop to 13 GW.
For the China market, however, IHS is less optimistic than others on likely installations for that country this year:
"We predict China will install at least 6 GW of new PV capacity this year," noted Sharma. "This is some way lower than the 10 GW figure that has been widely circulated around the industry as China's target for 2013. The continued issue of grid-connecting megawatt-scale PV projects, as well as delays in developers receiving FIT payments, is likely to hold back China from installing more this year. Even so, a dwindling European market and restrictions on Chinese modules could well drive higher domestic installations."
Installations or connections?
Although IHS confirmed that global PV installations surged past 31 GW last year, its analysis showed that grid-connected PV capacity was actually lower than 30 GW.
"When analyzing PV demand, some people talk of installations while others talk of connections. This often causes confusion, and so IHS tracks both to fully understand the market dynamics," Sharma noted. "Connections were lower in 2012 than installations, owing to lengthy delays in connecting major projects in countries such as China and India. For instance, up to 2.5 GW of PV projects were completed but not connected to the grid at the end of 2012 in China".
IHS analysis showed that global PV connections in 2012 amounted to just over 27 GW.
Europe's dominance set to end
While Europe accounted for 70 percent of PV installations in 2011, IHS found that this fell to 57 percent in 2012 and is predicted to slide further to 37 percent in 2013, especially as the region becomes outflanked by Asia. Almost all of Europe's so-called mature PV markets are predicted to decline in 2013—a development forecast to take place despite bright spots of growth in countries such as the U.K., Turkey and the Netherlands. As a result, IHS predicts that installations in Europe will fall from 18 GW in 2012 to 13 GW in 2013.
"While hopes in the past could have been pinned on Germany or Italy—which accounted for nearly two-thirds of European installations in 2012—growth here looks impossible," Sharma said. "Changes to Germany's EEG and Italy's Conto Energia are already in place, and a contraction in these two big markets is predicted in 2013. Moreover, looming antidumping measures against Chinese manufacturers are taking their toll on Europe, resulting in price increases and additional registration paperwork that will further temper solar demand this year."
Despite Europe's dramatic decline in 2013, IHS maintains that double-digit growth will occur again in global installations. Growth rates of 250%, 50% and 65% are forecast for Middle-East & Africa, Americas, and Asia respectively, supporting global growth, but continuing the industry's geographic fragmentation.
The IHS Global PV Demand Tracker is published quarterly and contains detailed analysis of PV installations in 60 countries.
About IHS (www.ihs.com)
IHS (NYSE: IHS) is the leading source of information, insight and analytics in critical areas that shape today's business landscape. Businesses and governments in more than 165 countries around the globe rely on the comprehensive content, expert independent analysis and flexible delivery methods of IHS to make high-impact decisions and develop strategies with speed and confidence. IHS has been in business since 1959 and became a publicly traded company on the New York Stock Exchange in 2005. Headquartered in Englewood, Colorado, USA, IHS is committed to sustainable, profitable growth and employs more than 6,000 people in 31 countries around the world.
Featured Product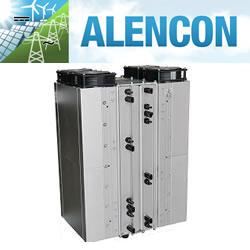 Alencon Systems is the premier manufacturer of high power, high voltage DC:DC optimizers for alternative energy applications including solar, battery energy storage, Microgrids, Fuel Cells and Electric Vehicle charging. Alencon's DC:DC converter offerings include the SPOT, BOSS and CUBE series DC:DC converters. The SPOT is a modular, uni-directional DC:DC solution ideal for solar applications. The BOSS is a modular, bi-directional unit for use with battery energy storage. The CUBE is a monolithic DC:DC converter which is available in both uni-directional and bi-directional modalities. Pictured above, is the Alencon SPOT.