The new IR20 is a pyrgeometer designed for high-accuracy longwave radiation measurement in scientific meteorological and climatological studies. Thanks to Hukseflux' technological innovation, IR20 is research-grade and offered at a breakthrough price compared to competing high-end models.
Hukseflux Thermal Sensors, founded in 1993, offers a complete range of sensors, systems and services for the measurement of solar radiation, heat flux and thermal conductivity. It has now added the IR20 and IR20WS to its range of pyrgeometers.

In meteorological terms pyrgeometers are used to measure "downward and upward longwave irradiance". Longwave radiation is the part of radiation that is not emitted by the sun. Pyrgeometers are not subject to a classification standard. Calibration of pyrgeometers is usually traceable to the World Infrared Standard Group (WISG). This calibration takes into account the spectral properties of downward longwave radiation.
IR20 pyrgeometer is suitable for use in climatological networks, in extreme climates, on moving platforms and for uncertainty assessments. Its benefits over competing models include breakthrough pricing for research budgets, high sensitivity, fast response time and an on-board heater. Every instrument is provided with temperature coefficients and the cut-on wavelength is displayed on the product certificate for each sensor. Knowing the cut-on is relevant for scientific applications and for calibration traceability.
Model IR20WS has a wider spectral range than IR20 and offers superior accuracy and precision under the condition that solar radiation is absent. Model IR02 and IR02-TR are instruments for lower accuracy far-infra-red (FIR) measurements.
More information and full specifications: http://www.hukseflux.com/product/ir20-ir20ws-pyrgeometer
Featured Product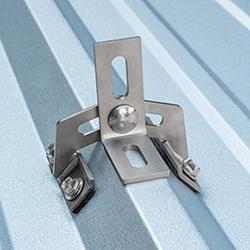 They have been changing the game for 10 years with their original Top Mount line for Asphalt Shingle roofs, and by now supplying one of the widest ranges of solar mounts in North America. From their patented products, to the custom production services they offer, QuickBOLT has been working with solar installers for nearly a decade to make solar installations easier than ever before.