Solar downstream outraises thin film for the first time
AUSTIN, Texas– April 8, 2013 - Mercom Capital Group, llc, a global clean energy communications and consulting firm, released its report on funding and mergers and acquisitions (M&A) activity for the solar sector during the first quarter of 2013.

The slump in global venture capital (VC) investments, which started in Q3 2012, continued, dipping to $126 million in 26 deals in Q1 2013 compared to $220 million in 27 deals in the previous quarter. This is the second lowest quarter for VC funding since 2008. In total, downstream companies, mostly solar lease companies, raised $75 million in eight deals, followed by thin film with $25 million in six deals.
"Downstream companies received the most VC funding of all categories. This is the first quarter we've seen this happen since we began tracking," commented Raj Prabhu, CEO of Mercom Capital Group. "After being burned by solar technology investments, especially thin film, we are finally seeing VC investments shift away from technologies and towards downstream/lease companies that are benefitting from record low panel prices."
The Top 5 VC funding deals in Q1 2013 included $30 million raised by OneRoof Energy from Hanwha followed by $28 million raised by Sungevity from five investors that included Brightpath Capital Partners, Lowe's, Vision Ridge Partners, Craton Equity Partners, and Eastern Sun Capital Partners. Rounding out the Top 5 were eSolar, a designer and developer of CSP solar projects now integrating molten salt storage technology, which raised $12.8 million; crystalsol, a developer of flexible thin film technology, with $11 million raised from Conor Venture Partners, Arax Capital Partners, and Energy Future Invest; Goal Zero, a provider of portable solar power systems which raised $7 million from Mercato Partners and PsomasFMG, a solar system provider, which also raised $7 million from MTI Partners.
Third party finance/solar lease firms raised about half a billion dollars in residential and commercial project funds in the first quarter with three of the transactions of $100 million each. SunPower announced a $100 million financing program with U.S. Bancorp for home installations utilizing SunPower's solar power system. Bosch Solar Energy also established a $100 million fund with its subsidiary aleo solar, which will be made available for commercial and residential solar projects in the United States. OneRoof Energy announced that it will invest $100 million in residential solar projects with MS Solar Holdings, a subsidiary of Morgan Stanley and Main Street Power, with debt financing provided by National Bank of Arizona. Mercom has tracked approximately $5 billion in disclosed solar lease funds to date.
M&A activity in the first quarter amounted to $306 million in 15 transactions. Although half of them did not disclose details, M&A strategies fell into three categories: acquisitions of downstream players to acquire project pipelines or create captive markets for upstream products, acquisitions of key technologies and IP, and acquisitions of distressed assets/companies.
The largest disclosed M&A transaction by dollar amount in the first quarter was solar cell manufacturer Goldpoly New Energy Holdings' acquisition of power plant developer China Merchants New Energy Holdings in a non-cash transaction valued at $273 million.
Similar to last quarter, one large M&A transaction dominated the quarter while smaller deals filled out the remaining list. Travis Perkins, a supplier to building and construction markets, acquired PV wholesaler and distributer Solfex for $12.5 million, while silicon ingots and wafers manufacturer Shunfeng Materials sold a 45.45 percent stake to Shunfeng Photovoltaic, a solar cell and product manufacturer for $12 million. Proton Power Systems, a developer of hydrogen fuel cells and electric hybrid systems, acquired solar energy storage company SPower Holding for $6.7 million. Cencorp Corporation, a provider of industrial automation solutions, purchased PV module manufacturer Sunweb Solar for approximately $1.3 million.
There were more than 1 GW of projects that changed hands in the first quarter of 2013. Disclosed project acquisitions in Q1 2013 totaled $137 million in 19 transactions, down in dollar amount from $297 million in Q4 2012 but up in transaction number from 17 acquisitions. Active acquirers in Q1 included investment funds, project developers and utilities. This quarter was dominated by the massive acquisition of SunPower's 579 MW Antelope Valley Solar Projects by Warren Buffett's MidAmerican Solar. This is MidAmerican Solar's second largest solar project acquisition following its $2 billion acquisition of First Solar's 550 MW Topaz Solar Project in Q4 2011. Other active project acquirers this quarter included: GE Energy Financial Services, MetLife, Union Bank and Citi, Kohlberg Kravis Roberts, Mitsubishi Corporation, Innovation Network Corporation of Japan and Solar Ventures.
About Mercom Capital Group
Mercom Capital Group, llc, is a global communications and consulting firm focused exclusively on clean energy and financial communications. Mercom's consulting division advises cleantech companies on new market entry, custom market intelligence and overall strategic decision making. Mercom's consulting division also delivers highly respected industry market intelligence reports covering Solar Energy, Wind Energy and Smart Grid. Our reports provide timely industry happenings and ahead-of-the-curve analysis specifically for C-level decision making. Mercom's communications division helps clean energy companies and financial institutions build powerful relationships with media, analysts, government decision makers, local communities and strategic partners. For more information about Mercom Capital Group, visit: http://www.mercomcapital.com.
Featured Product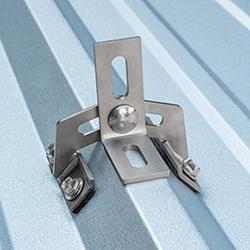 Explore new lines of income for your solar installation business with QuickBOLT's Stone Coated Steel roof mounts designed in partnership with metal roof manufacturers themselves. These SCS roof mounts work on all metal tile profiles and will help you bring in money you're missing out on. By not driving into the roofing material, QuickBOLT's Stone Coated Steel roof hooks maintain the integrity of the roof. Install with ease and confidence knowing your roof is protected against the harsh elements that these hooks are designed for.