TRA Snow and Sun acquires Accurpress machine, doubling its ability to bend, punch and dimple solar racking and snow retention products
American Fork, UT April 10, 2013

A solar panel doesn't automatically attach itself to a roof, wall or structure. There are numerous frames, pieces, and screws that become part of the solar system before it provides energy to a building. TRA Snow and Sun manufactures solar racking systems for all types of systems and has recently acquired a new machine which doubles their capacity to create the numerous parts required.
TRA's Accurpress press brake machine employs programmable capabilities, lifetime lubricated gibs (requiring no grease) and bearings of a Teflon composite material. What this means in layman's terms is that, unlike previous machines used to bend, pierce and dimple the frames and rails used to mount a solar panel, this one cuts the time in half to do the same processes while increasing accuracy.
A system used to mount a ballasted solar racking system, for instance, requires an eight foot long aluminum frame with eight circular holes punched through it at various intervals. TRA's Accurpress can punch all eight holes in one cycle of the press whereas other machines would require eight separate strokes of the press to punch the eight holes. For a system on a standing seam metal roof, TRA's clamp-on mount requires two separate bends to complete one part. Utilizing automatic back gauges, the part can be placed properly on the dies in order to create the needed angle of bend on the metal. The automatic back gauges can move vertically up and down. When bending parts, if the angle is not 90 degrees, the back side of the part that needs to hit the back gauges is higher than a straight piece. The Accurpress automatic back gauges can move instantly to the proper location of the part (up or down). The Accurpress, using its computerized capabilities, makes both bends without removing the frame from the machine.
Production Manager, Richard Gauer stresses the time-saving benefits and accuracy of the machine. "Tooling changes require less time because tooling can be memorized. When preparing to bend parts, the Accurpress computer lets the operator know which dies to place in the bed of the machine. The Accurpress computer knows exactly the dimensions of the tooling and after the operator sets the tooling, the press is instantly ready to start bending. There is no adjustment for the operator to check tonnage settings."
Terry Anderson, President and CEO of TRA Snow and Sun, Inc. says, "This Accurpress machine is really efficient. It has doubled our ability to create the parts for our solar racking systems as well as some of our roof snow retention devices. We can make consistent and progressive bends in aluminum, stainless steel and steel as well as punch round, square and oblong holes in the same material." Anderson estimates that with the addition of this machine, man hours will be shortened and output increased.
TRA Snow and Sun, Inc., located in American Fork, Utah, offers Roof Snow Retention Devices, Solar Racking Systems and Roof Ventilation and Flashing Solutions. They provide all customers, from the individual homeowner to the big developer, free engineered designs for all their systems. For more information call Richard Gauer at TRA Snow and Sun at 800-606-8980 or visit http://www.trasnowandsun.com
Featured Product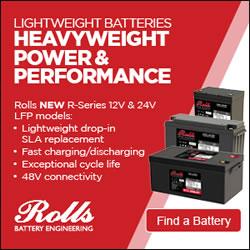 Designed for true drop-in replacement, Rolls new R-Series 12V & 24V LFP lithium models offer a maintenance-free lightweight flooded and SLA alternative in four popular BCI case sizes with fast charge/discharge capability. Rolls custom built-in BMS provides all necessary operating protections for safe operation and seamless integration for deep cycle replacement in 12V, 24V or 48V systems.