Roof-ready units ease installation and increase energy harvest and system reliability.
Sydney, Australia April 10, 2013

Solarland Australia, a joint venture of Solarland in Australia, announces the immediate availability of AC Modules, a new product category that puts Solarland at the cutting edge of the rapidly emerging market for integrated microinverters. Solarland AC Modules are factory-fitted with microinverters from U.S.-based SolarBridge Technologies, a leader in high-power microinverter solutions for AC Modules.
AC Modules convert DC power to AC power for the grid, providing up to 25 percent better energy harvest for a PV system. AC Modules are also a safer solution, with no high-voltage DC wiring on the roof.
"Our market experience has demonstrated that AC Modules offer a huge advantage for our customers. It is a significant market segment in some countries — as yet largely untapped in Australia. In addition, factory integration of the microinverter onto the module reduces the time, cost and hassle for our solar dealers," said Sam Andrews, Solarland Australia Managing Director.
Solarland will offer specially designated part numbers for its AC Modules that are fitted with SolarBridge Pantheon II microinverters and which were recently awarded Clean Energy Council (CEC) approval in Australia and have been available in the US market since 2011. Solarland AC modules come with a standard 25-year warranty for the module and the microinverter, managed as a single, end-to-end warranty by Solarland Australia.
"Australia represents a huge market opportunity for solar and for AC Modules, but also a respectable challenge from a rooftop thermals perspective," said Ron Van Dell, president and CEO of SolarBridge Technologies. "Our microinverters have a unique architecture that is tailor-made for the extreme temperatures of Australia, and we've demonstrated to Solarland that we meet their extremely high standards for product qualification."
The SolarBridge Pantheon II microinverter was evaluated by Austest Laboratories to AS4777.2, AS4777.3, AS/NZS 3100, AS/NZS 60950 and AS 60529. In addition to these inverter safety standards, Solarland has conducted its own reliability tests to simulate the extreme conditions that are unique to Australia and satisfy itself that the product will provide real advantages for solar system owners.
"A number of local companies have recently begun supplying microinverters in Australia. As a module manufacturer, we are in a unique position to understand how these products will work together. By choosing to integrate a SolarBridge Pantheon II into our AC Module rather than simply supplying microinverters, we can control the manufacturing process in a quality-assured factory and deliver more robust solutions," said Andrews.
Solarland AC Modules provide access to new market segments, the ability to maximize energy production on difficult roofs and provide far better monitoring of system performance for consumers.
"With many states already experiencing rooftop penetration levels in excess of 30%, the opportunity for technological solutions on difficult roofs is enormous. Small and multi azimuth roof areas, unusual shapes, shading obstructions and upgrades are all markets ideally suited to AC Modules," Andrews said.
Technical product support for end users will be jointly looked after through SolarBridge's support staff based in Melbourne and Solarland's own staff who have been specially trained in the products.
To learn more about microinverters and AC Modules, visit http://www.solarland.com.au/acmodules.aspx. To order AC Modules direct from Solarland, visit http://www.solarland.com.au.
About Solarland
Solarland Australia, the joint venture of Solarland International and a group of local Australian renewable energy professionals, is the wholesale supplier of Solarland's products in Australia. Solarland is a world class manufacturer of PV panels based out of Wuxi, China and exports its products around the world. Based in Sydney, New South Wales, Solarland Australia supplies a range of Clean Energy Council-approved, on-grid and off-grid products to the Australian and Pacific region. For more information, visit http://www.solarland.com.au.
About SolarBridge Technologies
SolarBridge Technologies, a leader in integrated microinverter technologies for the solar industry, is accelerating the adoption of solar energy in residential and commercial applications. The SolarBridge AC Module System – featuring the SolarBridge Pantheon II microinverter, Power Manager and Power Portal – dramatically increases the efficiency and reliability of PV systems, while reducing the cost of solar energy. The SolarBridge microinverter matches the lifetime of solar modules, enabling module manufacturers to provide a 25-year warranty on their AC modules. The company is headquartered in Austin, Texas. For more information, visit http://www.solarbridgetech.com.
Featured Product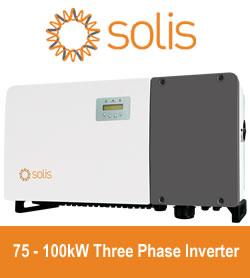 Solis75kW - 100kW series high-power string inverters are widely used in industrial and commercial rooftops. Solis's new three-phase string inverter is the first choice for industrial and commercial photovoltaics. 75-100kW three phase series string inverter have Maximum 28 strings input, support "Y" type connection in DC side. Maximum string input current 13A, support bifacial modules access.Supports anti-PID function to improve system efficiency.