Maintains top spot for ninth consecutive year
MINNEAPOLIS, April 11, 2013 -- Xcel Energy remains the number one utility provider of wind energy in the United States, according to a newly released report from the American Wind Energy Association. This is the ninth consecutive year that Xcel Energy has led the nation in providing wind energy to its customers.

At the end of 2012, Xcel Energy had nearly 4,900 megawatts of wind electricity generating capacity on its system, enough to power 1.5 million homes and at least 600 megawatts more than the next leading utility. Wind power currently represents about 12 percent of the energy the company supplies to its customers.
"I am proud that Xcel Energy is once again the nation's leading clean energy utility," said Ben Fowke , president, CEO and chairman of Xcel Energy. "Our customers and communities are strong supporters of renewable energy, and wind energy plays a vital role in our strategy to meet customers' energy needs with clean, reliable, and affordable energy."
Xcel Energy has preserved its renewable energy leadership while maintaining customer electricity rates below the national average. "Wind is an important part of our diverse energy mix, and we've been able to provide it to our customers at a competitive price," Fowke added. "Wind energy helps protect customers from the risk of rising fuel costs and the cost of future power plant environmental regulations."
Because wind by its nature is an intermittent resource – it is available only when the wind blows – the cost of integrating each megawatt hour of wind energy is greater for utilities with higher levels of wind generation. As the nation's number one wind provider, Xcel Energy is also a leader in technology and operating practices that help manage the cost of wind integration. Since implementing an advanced wind forecasting system in 2009, the company has saved customers about $22 million in fuel costs and set multiple records for the amount of wind energy on its system. On April 15, 2012, Xcel Energy set a national record by serving nearly 57 percent of its electricity load in Colorado during one early morning hour with wind energy.
The company recently issued three requests for proposals seeking additional low-cost wind power in the Upper Midwest, Colorado, Texas and New Mexico. Winning bidders will be announced by early summer. "We will continue to pursue additional wind energy where it makes sense for our customers," Fowke said.
Xcel Energy (NYSE: XEL) is a public utility holding company headquartered in Minneapolis, Minnesota. The company serves 3.4 million electric customers and 1.8 million gas customers in eight states in the Midwest and Southwest, including Minnesota, Colorado and Texas.
Featured Product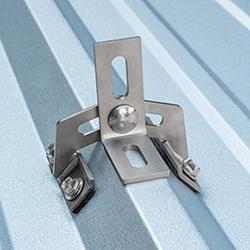 They have been changing the game for 10 years with their original Top Mount line for Asphalt Shingle roofs, and by now supplying one of the widest ranges of solar mounts in North America. From their patented products, to the custom production services they offer, QuickBOLT has been working with solar installers for nearly a decade to make solar installations easier than ever before.