Conference and exposition taking place in San Jose in September to underscore the growing momentum in energy storage.
April 11, 2013—San Jose, CA—Energy Storage North America (ESNA) is seeking nominations for the ESNA Innovation Awards, which will honor the most innovative energy storage projects in North America. The awards will be presented at the ESNA Conference and Expo 2013, which takes place September 10th-12th in San Jose, California.

Energy Storage North America also has issued a call for conference speakers who can lead interactive, engaging discussions and presentations on issues facing the energy storage market.
Jointly organized by Messe Düsseldorf North America and Strategen Consulting, ESNA 2013 will be the first conference and exposition in the U.S. to focus exclusively on applications, customers and the emergence of an energy storage economy in the U.S. ESNA 2013 is strategically timed to coincide with the release of the California Public Utilities Commission determination on energy storage procurement goals for California.
"Energy storage is not just a technology of the future. It is here now and has the potential to profoundly change how we plan and operate the electric power system," said Janice Lin, Managing Partner of Strategen Consulting. "Innovative policies and new business models are encouraging utilities, developers and others to integrate energy storage into renewable generation projects, commercial and residential buildings, and transportation networks. ESNA will serve as a forum for executives, developers, technologists and others to exchange ideas, discuss strategies, and collaborate."
The program will be organized around three distinct themes: utility-scale storage transmission support, distributed energy storage (distribution support, commercial/industrial sites and microgrids) and mobility (transportation, EV charging, fleet deployments).
ESNA 2013 is a companion conference to the International Energy Storage Summit, whose second annual conference held this year in Germany attracted more than 530 participants and 45 exhibitors from 33 countries.
The ESNA Innovation Awards seek to congratulate and highlight excellence and achievement in developing energy storage projects for utility scale, distributed and mobility applications. The 2013 awards will be given to projects that tap into multiple value streams, such as employing energy storage technologies to supplement grid balancing systems or supporting renewable and fossil generation.
The nominees will be evaluated with regard to innovative services supplied to the grid, financing plans, business models, ownership structures, and technology. The Judges also will consider the customer value proposition and the project impact.
The Award Ceremony will take place at Energy Storage North America in the San Jose Convention Center on Sept 11, 2013. The nominations can be made on behalf of utilities, technology developers, project developers and teams of organizations. A nomination form can be found HERE. All submissions must be emailed to awards@esnaexpo.com by August 1, 2013 at 5:00 p.m. PDT.
ESNA also is seeking speaker abstracts and presentations for the program. ESNA is looking for speakers who can discuss current or near-term energy storage projects, policy changes and recommendations, technological breakthroughs, and commercial opportunities in North America.
All submissions must be emailed to program@esnaexpo.com by 5pm PDT June 1, 2013. ESNA will notify the chosen applicants by July 15, 2013.
ESNA is supported by the global network of stakeholders, including the following key partners: U.S. Department of Energy, Sandia National Laboratories, the Power Association of Northern California, CALSTART, Solar Energy Industries Association, United States Green Building Council – Northern California, the Clean Coalition, the Electricity Storage Association (ESA), the California Energy Storage Alliance (CESA), the Texas Energy Storage Alliance (TESA), the German Energy Storage Association (BVES), the China Energy Storage Alliance (CNESA) and the Indian Energy Storage Alliance (IESA), as well as Solarpraxis AG and Joint Venture Silicon Valley.
For further information on visiting or exhibiting at Energy Storage 2013, contact Daniela Knoll, Messe Düsseldorf North America, 150 North Michigan Avenue, Suite 2920, Chicago, IL 60601. Telephone: (312) 781-5180; Fax: (312) 781-5188; E-mail:dknoll@mdna.com; Visit our web site http://www.esnaexpo.com; Follow us on twitter at http://twitter.com/EnergyStorageNA
Featured Product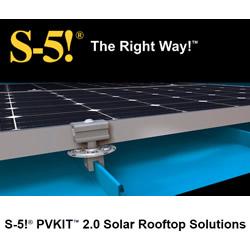 The concept of combining PV arrays with standing seam metal roofing is growing-for good reasons. Metal roofs have a life expectancy of more than 40 years. Shouldn't the mounting system last as long? With S-5! zero-penetration attachment technology and PVKIT 2.0, the solarized metal roof is the most sustainable system available -and without compromising roof warranties! PVKIT 2.0 is the also the best solution for attaching PV modules directly to any exposed fastener metal roof.