A discussion centered on private geothermal project finance highlighted the benefits of investing in this clean energy.
New York City (April 12, 2013) – The Geothermal Energy Association's annual U.S. and International Geothermal Energy Finance Forum (#GEAFinance2013) brought together leaders from the geothermal, finance and investment communities for a day of seminars and discussions. The forum, hosted April 11 at the Marriott Marquis New York, focused on finance's role in the growth of the U.S. geothermal industry, as well as geothermal projects, policies and development worldwide.

"For the industry to reach the next level, we need to expand support from the finance community," said GEA Executive Director Karl Gawell. "Governments are providing greater support, but it won't be enough to fund the expected thousands of megawatts of new projects in the pipeline. We must engage new private investors to grow the geothermal industry."
Panels at the forum included a worldwide geothermal development update delivered by Benjamin Matek, GEA geothermal industry analyst, and Mark Taylor, head of geothermal and CCS research for Bloomberg New Energy Finance.
"Only 6 percent of the estimated global geothermal resource is currently online," Taylor said. "By 2030, we expect 28 to 29 GW to come online. There are a lot of places in the world geothermal has not been tapped."
In addition to the United States, a number of leading geothermal markets were represented at the Finance Forum, including Angola, Australia, Canada, Japan, Kenya, Mexico, St. Kitts and Nevis, Rwanda and Uganda. Many of the program speakers remarked that developers can increase success by distinguishing the most fruitful possible projects from the abundance of the global geothermal resources through proper resource studies upfront, thus avoiding major risks further along a project's timeline.
A discussion centered on private geothermal project finance highlighted the benefits of investing in this clean energy. "It's baseload, it's 24/7, it's a really good investment," said Sid Sinha, senior vice president of Marathon Capital. "It's a proven technology and it's been around for decades."
The keynotes were delivered by Rohit Khanna, program manager of the World Bank Group's Energy Sector Management Assistance Program, and Ambassador of Kenya Elkanah Odembo, who stressed that Africa is rapidly changing, growing and evolving.
"There is business to be done on the continent, there is money to be made. If you make an investment in geothermal, you will get significant returns," Odembo remarked.
Khanna echoed Odembo's sentiment and passion for geothermal. World Bank has invested $1.8 billion in developing countries, Khanna said.
"Geothermal is a triple-win: clean, reliable and home-grown," he stated.
Discussions at the Finance Forum focused on issues such as geothermal project finance in the United States and abroad, geothermal project risk, and a worldwide geothermal development update. The global geothermal market is on the upswing in 2013, and recent reports show an estimated 18.6 GW of geothermal power currently in development across 70 countries, accounting for $100 billion in investment. Much of this development is being spearheaded by American companies, a number of whom were represented at the event.
The GEA Finance Forum was made possible by event sponsors Power Engineers, Galena Advisors, Chevron, Hydro Resources and Whitehall.
As the U.S. and nations around the world look to replace fossil fuels to minimize the threat of global warming, geothermal power will grow in its value and importance in the years ahead. Geothermal can provide both firm and flexible power. It can bring the reliability of 24/7 baseload power or complement other energy technologies by firming up more intermittent power generation. It can also provide power for small co-production projects to large utility scale power plants.
The industry will continue the conversation when GEA hosts the National Geothermal Summit in Reno from June 26-27.
For more information, please contact Shawna Seldon, The Rosen Group, 917 971 7852 or shawna@rosengrouppr.com.
About the Geothermal Energy Association:
The Geothermal Energy Association (GEA) is a trade association comprised of U.S. companies that support the expanded use of geothermal energy and are developing geothermal resources worldwide for electrical power generation and direct-heat uses. GEA advocates for public policies that will promote the development and utilization of geothermal resources, provides a forum for the industry to discuss issues and problems, encourages research and development to improve geothermal technologies, presents industry views to governmental organizations, provides assistance for the export of geothermal goods and services, compiles statistical data about the geothermal industry, and conducts education and outreach projects. For more information, please visit http://www.geo-energy.org/. Check out GEA's YouTube Channel. Follow GEA on Twitter. Become a fan on Facebook.
Featured Product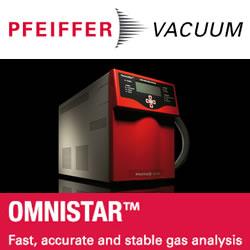 The Pfeiffer Vacuum OmniStar benchtop analysis system offers you a compact footprint, powerful software and Ethernet connectivity. It's the optimum solution for many real-time gas analysis applications. With the OmniStar, Pfeiffer Vacuum offers you a complete solution for gas analysis, in chemical processes, semiconductor industry, metallurgy, fermentation, catalysis, laser technology and environmental analysis. The turnkey OmniStar gas analysis system consists of heated, temperature-regulated gas inlet system, Quadrupole mass spectrometer, a dry diaphragm vacuum pump and HiPace turbopump. Unlike competing methods such as FTIR, OmniStar is suitable for qualitative and quantitative analysis of most gases.