New EMEA leadership established for continued growth and expansion
PETALUMA, Calif. & LYON, France--Enphase Energy, Inc. (NASDAQ: ENPH), today announced the availability of the Enphase® Microinverter System in Greece through authorized distribution. With shipments now in eight countries in the region, Enphase also announces the appointment Olivier Jacques as Managing Director for Enphase Europe, Middle East and Africa (EMEA) to oversee execution and future expansion of the business.

"I am focused on growing the international business for Enphase and using regional resources and relationships as leverage to capitalize on new market opportunities," said Olivier Jacques, Managing Director for Enphase EMEA. "Geographic expansion through existing distribution partnerships, while at the same time establishing new local partners, is a model that increases our market presence in Europe in an efficient and scalable way."
Europe remains the world's largest solar market, and Enphase continues to gain share due to the value delivered by its pioneering technology. Last month, Enphase announced it is shipping in Switzerland through existing strategic partnerships with large PV suppliers. Following this model, the Enphase Microinverter System will be marketed and sold in Greece through an official network of authorized distributors.
Greece presents favorable conditions for the solar industry due to its geography, climate and plentiful solar irradiation. Over the last few years the solar market has grown rapidly. According to NPD Solarbuzz Marketbuzz 2013 report, the market was 414MW in 2011. Growth continued in 2012 based upon strong PV economics, and in spite of the country's financial constraints, NPD Solarbuzz reported the market reached 961MW.
The Greek government is also targeting the solar sector as a way to bolster the weak economy. On March 27th, the launch of a close cooperation between Greece and Germany (with the support of an EU Commission's Task Force for Greece) was announced in the field of renewable energy. The cooperation involves technical assistance for investments from the Task Force, with the German environment ministry co-financing the first stage of the program.
For more information about Enphase in Greece, visit: enphase.com/gr.
About Enphase Energy, Inc.
Enphase Energy delivers microinverter technology for the solar industry that increases energy production, simplifies design and installation, improves system uptime and reliability, reduces fire safety risk and provides a platform for intelligent energy management. Our semiconductor-based microinverter system converts energy at the individual solar module level and brings a systems-based, high technology approach to solar energy generation. Connect with Enphase on Facebook and follow us on Twitter. www.enphase.com
Featured Product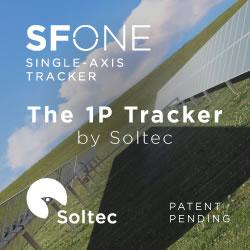 Soltec manufactures and supplies solar trackers designed and proven for extreme climate conditions, which is an ideal solution for any region's environment. Soltec's trackers are self-powered, requiring no additional PV module or grid-powered connection. Bifacial modules collect energy on both the front and rear sides, capturing reflected irradiance from the ground surface under and around the tracker and from other modules. Depending on site conditions, bifacial yield-gain can reach +30 percent.