15MW Sheikh Zayed Solar Power Plant in Mauritania accounts for 10 percent of nation's grid capacity
ABU DHABI, United Arab Emirates--Masdar, Abu Dhabi's renewable energy company, today launched an US$31.99 million utility-scale, 15-megawatt solar photovoltaic (PV) power plant in the Islamic Republic of Mauritania. The Sheikh Zayed Solar Power Plant is located in the capital city of Nouakchott and is the largest solar PV plant in Africa. The new facility accounts for 10 percent of Mauritania's energy capacity and will displace approximately 21,225 tons of carbon dioxide annually.

Mauritania's electricity grid, which is powered mostly by expensive diesel generators, currently has an installed capacity of only 144 megawatts, resulting in severe energy shortages. With energy demand increasing by 12 percent annually, the addition of solar power will help meet future electricity shortfalls and supply the energy demand of approximately 10,000 homes. The plant, which consists of 29,826 micromorph thin-film panels, was built using innovative and sustainable construction practices. In particular, project engineers designed the support structure for the PV modules to be piled into the ground instead of using a concrete foundation, which reduced the project's carbon footprint and cost.
"Energy access is a pathway to economic and social opportunity," said Mauritania President Mohamed Ould Abdel Aziz during the inauguration of the solar plant. "Electrification, through sustainable sources of energy, is critical in ensuring our people have access to basic services and is a step toward improving our infrastructure and long-term economic development. We are pleased to have partnered with Masdar to successfully deliver Africa's largest solar PV plant and an important facility to meet Mauritania's growing energy needs.
"This new solar power plant not only provides much needed grid capacity for our people, it also proves that renewable energy can play a major role in the development of our country. The United Arab Emirates, a nation dedicated to improving global welfare, have committed resources and expertise to improving energy access through renewable energy technologies. This is a testament to the UAE leadership's vision of ensuring sustainable development – economically, socially and environmentally," added President Abdel Aziz.
The United Arab Emirates has a long history of reinvesting its hydrocarbon wealth into helping developing countries promote economic development and alleviate poverty. From the construction of water and road infrastructure to building hospitals and schools, the UAE is enabling economic growth across developing nations.
The acceleration and adoption of renewable energy is part of the UAE's commitment to the developing world. With the price of renewable energy technologies falling, solar and wind power are becoming economically viable solutions to improving energy security and access. Domestically generated renewable energy is clean, sustainable and helps developing nations insulate themselves from volatile fuel prices.
"For more than 40 years, the UAE has remained steadfast in its commitment to helping developing countries achieve their economic potential," said Dr. Sultan Ahmed Al Jaber, CEO of Masdar. "Today, as the UAE and Masdar help countries realize their ambitions of developing critical energy infrastructure, we are finding important new ways to assist the global community in achieving sustainable development.
"Through this project, and others like it, Masdar is committed to improving energy access and demonstrating that renewable energy can serve as a foundation for economic development and social opportunity," added Dr. Al Jaber.
With strong solar and wind energy resources, Mauritania has the potential to derive a significant portion of its electricity capacity from sustainable and reliable sources of energy.
"Renewable energy has the potential to be a major contributor to the energy mix in developing countries where access to conventional energy is limited," said Dr. Al Jaber. "With energy demand expected to nearly double by 2030, renewable energy will play an increasingly important role, especially in countries where demand is rapidly outstripping supply."
Masdar is developing other renewable projects to improve energy access in the developing world, including:
*The Seychelles project is a 6-megawatt wind farm
*A project in Afghanistan will supply 600 residences with off-grid solar PV
*A 500-kilowatt solar photovoltaic facility on the island of Vava'u in the Kingdom of Tonga
Featured Product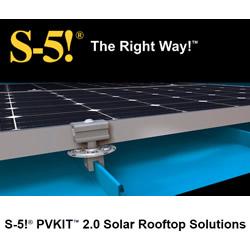 The concept of combining PV arrays with standing seam metal roofing is growing-for good reasons. Metal roofs have a life expectancy of more than 40 years. Shouldn't the mounting system last as long? With S-5! zero-penetration attachment technology and PVKIT 2.0, the solarized metal roof is the most sustainable system available -and without compromising roof warranties! PVKIT 2.0 is the also the best solution for attaching PV modules directly to any exposed fastener metal roof.