Ecotech Institute's Clean Jobs Index Indicates Nearly 60,000 Jobs in March that Require Both Business and Sustainability Knowledge
As more industries develop a commitment to green practices, the number of business-related jobs that require sustainability knowledge are on the rise. According to Ecotech Institute's Clean Jobs Index, there were 59,803 U.S.-based jobs available in March that met the criteria of green jobs within a business environment. Ecotech Institute, a leader in renewable energy and sustainability education, continues to watch this growing trend and aims to fill the gap for qualified candidates with its two-year Business Administration – Sustainability degree program.

"Sustainability-focused careers span the globe and cross many boundaries from public and private sectors to nonprofits, consulting and more," says Kyle Crider, director of sustainability for Ecotech Institute. "Organizations of all sizes that are looking to lessen their carbon footprint require someone who deeply understands the intersection between business and sustainability."
Ecotech's Business Administration - Sustainability program delivers a business education with a distinct focus on sustainability, which makes it easier for people to learn about, define and find sustainable business careers. Career opportunities include positions in management, sales, financial operations, production and many others. Additionally, the curriculum is ideal for people interested in entrepreneurship within the cleantech industry.
"The employee who has a holistic worldview will find more opportunities and have greater creativity, which can lead to an even greater profit potential," adds Colin Coyne, Managing Principal, The Coyne Group and LEED 2.0 Accredited Professional. "Sustainable thought – properly taught and executed – represents that kind of holistic perspective."
Ecotech's business program provides students with knowledge and skills suitable for employment in a broad range of private and public sector organizations. Coursework includes accounting, financial analysis, human resources, project management, communications, customer service, sustainability, renewable energy and workplace ethics. In two years, graduates with a sustainability degree from Ecotech will have an understanding of the cleantech landscape and how sustainability plays a role in today's businesses environment.
Ecotech Institute is committed to being a foremost expert on jobs in the cleantech economy. As part of that commitment, its "Clean Jobs Index" breaks down clean jobs by state with links to local jobs. To find available positions, Ecotech uses jobs data from Burning Glass International, whose patented job aggregation technology searches for job listings from more than 17,000 sources.
Ecotech Institute initiated and produces the Clean Jobs Index using several independent organizations. The sustainability factors of the Index data are updated on a quarterly and annual basis (depending on when new data is released) and job data is updated monthly as new jobs are posted.
To learn more about the Clean Jobs Index, go to www.ecotechinstitute.com/cleanjobsindex/; visit Ecotech Institute online to learn more about its Business Administration – Sustainability program.
Featured Product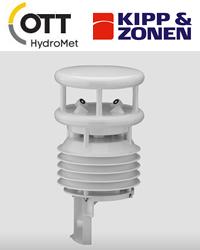 The WS50PV is an affordable, compact all-in-one weather sensor measuring the most critical parameters for commercial and industrial PV monitoring. Equipped with a suite of professional measuring sensors, the WS50PV can handle air temperature, relative humidity, barometric pressure, wind direction, and wind speed in one efficient housing to simplify mounting. Add an external temperature or rain sensor to the single-wire digital Modbus interface for fast and easy integration. The WS50PV is the tool you need for unlocking solar energy performance.