The photon module yield test corroborates the results of previous practical tests in which aleo modules regularly scored high marks.
Oldenburg, Prenzlau, 19 April 2013. The aleo S_18 solar module was rated highly in the Photon module yield test 2012. The trade journal has published the results of a long-term measurement conducted by Photon Laboratory in its February 2013 issue.

According to it, the aleo S_18 solar module achieved a very good performance ratio of 91.5 at a test site in Aachen and took 22nd place of 151 modules tested. If one only takes the polycrystalline solar modules into comparison, then the aleo module takes place 15 with its yield of 1,099.3 kilowatt hours per kilowatt.
"Their high yields and long service life make aleo modules especially cost effective," says Jens Sabotke, Director of Technology and Development at aleo solar AG. In contrast to many competitors, aleo modules also allow conclusions to be drawn about their long-term stability, since aleo solar has already been producing at its plant in Prenzlau, Germany, for over ten years now. Measurements conducted by independent specialised service provider MBJ Services revealed degradation in aleo modules to be minimal. After ten years of operation, the age-related performance reduction was only 2.73 per cent on average – half the figure that is usually assumed when planning photovoltaic plants.
The photon module yield test corroborates the results of previous practical tests in which aleo modules regularly scored high marks: for instance, the aleo S_18 module was one of the winners in the big module test conducted by the consumer magazine ÷kotest (October 2010 issue). aleo earned nothing less than a full-fledged "very good" among the total of 15 modules tested. The aleo S_16 module emerged as the clear test victor in the module test held by Stiftung Warentest (May 2006 issue). The aleo module was praised for its high power production, durability and safety with the best mark of 1.9. The aleo modules also performed impressively in terms of yield in a study conducted by the Flensburg University of Applied Sciences. Seven different brand modules were tested for an entire year on a test facility belonging to the Flensburg public utility company Stadtwerke. In it, the aleo S_16 module achieved by far the greatest electricity yields – up to eleven per cent greater than the comparison models.
The Company
aleo solar AG produces and distributes premium solar modules and systems for the international photovoltaic market. Since 2009, the Bosch Group has owned a majority of the company (DE000A0JM634), which was originally founded in 2001 and has been listed on the stock exchange since 2006. The premium manufacturer currently has approximately 900 employees and is represented in the key photovoltaic markets all over the world. The aleo solar group has an annual production capacity of 280 megawatts
Featured Product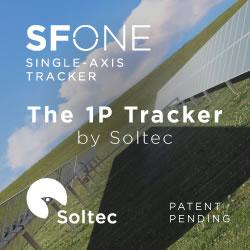 Soltec manufactures and supplies solar trackers designed and proven for extreme climate conditions, which is an ideal solution for any region's environment. Soltec's trackers are self-powered, requiring no additional PV module or grid-powered connection. Bifacial modules collect energy on both the front and rear sides, capturing reflected irradiance from the ground surface under and around the tracker and from other modules. Depending on site conditions, bifacial yield-gain can reach +30 percent.