Samil Power will present its Micro Inverters SolarPond 240 with higher efficiency to the UK market at this year's Ecobuild exhibition.

The micro inverter from Samil Power with higher efficiency of 96%, it also can maximized the yield by reducing power loss with shade and dust. Besides, it high reliability will enable no single point of system failure and system availability over 99%. Wide operating temperature (-40℃~+85℃), along with comprehensive protection (Over/under-voltage, Over/under-frequency, island protection, short circuit, etc.) made it can work in a harsher environment. In addition, 'Plug and Play' connection enables its convenient install and maintain feature.
Furthermore, Samil Power offers the SolarRiver, SolarLake and SolarOcean series to satisfy various power concerns, complying with around 20 countries grid connection standards. As one of the inverter suppliers of one of the world's largest Solar Plants (200MW), Samil Power is the biggest Chinese exporter of solar inverters, and the second largest inverter manufacturer in terms of sales volume in China both in 2011 and 2012.
Samil Power is also set to unveil its advanced applications, such as its inverter with Zigbee communication and advance online monitoring site ViPlant (www.v-iplant.com) to assist the installers and end users to monitor the PV system's performance. Zigbee has features of low power consumption and cost-effectiveness. ViPlant is user-friendly due to its easy understanding report, and world-wide access. It is informative in regards to plant data monitoring, data statistics and maintenance of each inverter. It is personalized through IOS or Andriod system monitoring.
Ecobuild will be held at London's Excel exhibition hall from March 05-07. The official sales and service team coupled with smart inverters will wait for you at South hall S3130.
Featured Product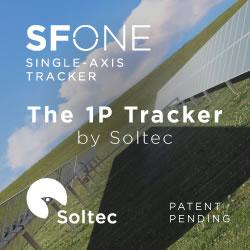 Under the slogan "engineered for greatness", the SF8 tracker aims to revolutionize the photovoltaic market with its new minimum 2x60 configuration and 4 to 6-strings. This tracker is elegantly designed while it reinforces its structure to perform in any terrain. In addition, the SF8 tracker increases the rigidity of its structure by 22% more than the previous generation of Soltec trackers, the SF7. The SF8 is specially designed for larger 72 and 78 cell modules, an increasing market trend.