Local Joint Venture partners Johnson Melloh Solutions and Telamon approved for second phase
INDIANAPOLIS – The Indianapolis Airport Authority (IAA) announced today that it has selected a Joint Venture group between two locally owned companies, Johnson Melloh Solutions and Telamon, to develop a second 10-megawatt Solar Farm on Indianapolis International Airport (IND) property. Bulldog Energy Airport, LLC and Indy Airport Solar Project II, LLC will co-develop the solar farm located directly west of the phase 1 solar farm currently under construction.

When the projects are completed, IND will be the site of the largest airport-based solar farm developments in the country.
Under the terms of the agreement, Bulldog Energy Airport, LLC and Indy Airport Solar Project II, LLC will finance, design, construct, and operate the facility on land leased from the IAA.
Design and utility interconnection studies are already approved, and construction could begin as early as the third quarter of 2013. Combined phase I and phase II projects will exceed 20 megawatts.
The phase 2 solar farm is expected to produce more than 15 million kilowatt hours of electricity annually, or enough power for 1,200 average American homes for one year. This is comparable to preventing approximately 10,700 tons of CO2 from being released into the environment each year, which is the equivalent of removing approximately 2,000 cars from the road. To help raise awareness of solar energy, real-time output data will be available to the public.
Electricity generated by the airport solar farm will be fed directly into the grid operated by the Indianapolis Power and Light Company (IPL) through existing surface transmission lines that connect the airport terminal to the IPL substation west of the airport. No public funds or airport costs are anticipated to be involved in the project.
"Development of a second IND-based solar farm is the result of our continued focus on both economic sustainability and environmental commitments," said Robert Duncan, executive director for the IAA. "The solar farms allow previously undeveloped land to begin generating solar energy as well as significant sources of non-airline revenues for the IAA. This creates benefits for all airport stakeholders, better positions us to sustain current and future air service, and adds to the more than $55 million in state and local tax revenues annually generated as a result of the airport's presence."
"We are excited to see the economic impact from the construction jobs created from not only this project, but the approximately 300 million dollars of projects identified in the IPL pipeline," said Bob McKinney, Chief Operating Officer at Johnson Melloh Solutions.
"Every great strategy includes a solid hedge, and diversification of our electric generation is the first step toward stabilizing what could be a very volatile rate environment for Hoosiers with currently 90% of our electricity produced by coal fired generation," said Nick Melloh, President of Johnson Melloh Solutions.
"We could be talking about billions of dollars in construction projects across the state if all public utilities were to follow IPL's lead and vision. Feed in Tariffs offered by utilities are huge economic development drivers and our hope is to see more FIT's offered in the future," said Vice President of Johnson Melloh Solutions, Kurt Schneider.
About the Indianapolis Airport Authority
The Indianapolis Airport Authority owns and operates Indiana's largest airport system. In addition to Indianapolis International Airport, its facilities include the Downtown Heliport, Eagle Creek Airpark, Hendricks County Airport, Indianapolis Regional Airport, and Metropolitan Airport. IND has received numerous prestigious awards recognizing it as a leader within its class, including best airport in North America in 2010 and 2012 in Airports Council International's annual Airport Service Quality awards. IND is the first airport in the U.S. to win LEED® certification for an entire terminal campus, and the airport has won recognition for excellent customer service, concessions programs, and art and architecture.
IND's economic impact in Central Indiana is more than $4.5 billion annually, and about 10,000 people work at the airport each day. IND serves more than 7 million business and leisure travelers each year and averages 137 daily flights to 32 nonstop destinations. Home of the world's second-largest FedEx Express operation and the nation's eighth-largest cargo facility, IND is committed to becoming the airport system of choice for both passenger and cargo service. For more information, visit IND's Facebook page at Indianapolis International Airport and Twitter page at @INDairport.
About Johnson Melloh Solutions
Johnson Melloh Solutions is a design-build construction company focused on providing long term value to their clients by reducing life cycle costs associated with energy consumption and operating costs. Johnson Melloh Solutions has dedicated itself to adding renewable energy design and build to its portfolio of services with a specific concentrated effort on solar photovoltaic.
About Telamon
Telamon Corporation, an Indianapolis based company, is your product and solution partner of choice. Established in 1985, Telamon is a $500M company, with 600+ employees across 9 locations (6 domestic, and 3 international). Uniquely positioned as a minority-owned company, Telamon has exceeded the highest standards as evidenced by our awards and certifications. At the same time, Telamon, the Greek word for "support," is a servant company—your needs are our only priority.
Telamon Energy Solutions, as a subsidiary of the Telamon Corporation, is your preferred partner for smart building, LED lighting, sustainability products, and renewable energy solutions. Telamon Energy Solutions works with our customers to develop total energy solutions that can cut costs while improving performance, reducing energy usage, and protecting our environment.
www.telamon.com
http://www.telamon.com/green.html
Featured Product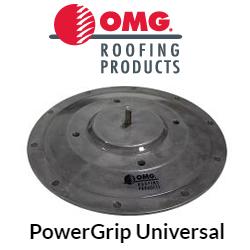 Eliminate Solar Rack Ballast and Reduce Rooftop Material Handling. PowerGrip™ Universal (PGU) is a commercial roof mount system designed to secure solar racks and other equipment to any type of commercial roofing system. PGU provides a secure connection directly to the roof deck or structural members and is designed to reduce or eliminate ballast in solar racking systems, so there's less weight on the roof and less material handling. Made of heavy-duty cast aluminum, PGU units include a base ring which is secured through the roofing cover and into the structural roof deck, and a waterproof top plate.