Downturn expected until 2014, recovery forecast from 2015 onward.
Santa Clara, Calif., April 22, 2013—Solar photovoltaic (PV) industry module revenues are forecast to decline 20% in 2013 to $20.5 billion from $25.5 billion in 2012. While revenues will remain below 2012 levels during 2013 and 2014, they are set to increase from 2015 onward. According to the NPD Solarbuzz 2013 Marketbuzz report, PV module revenue is expected to reach $32 billion by 2017.

Confidence in the solar PV industry was severely damaged in 2012, as module average selling prices (ASPs) declined approximately 50% Y/Y, while end-market demand grew only 5%. This mismatch placed extreme pressure on the solar PV manufacturing sector, which had expanded its capacity during 2010 and 2011 to potentially supply 45 GW to an end-market that reached only 29 GW in 2012.
"Manufacturing over-capacity and declining revenues had a dramatic impact on the PV industry in 2012, and this trend will continue during 2013," said Michael Barker, Senior Analyst at NPD Solarbuzz. "Share values of several publicly listed PV companies have been falling close to delisting levels, operating losses have been reported in the hundreds of millions of dollars per quarter, and many manufacturers are continuing to file for insolvency. Predicting how and when the solar PV industry will rebound to profitability has now become essential for all industry participants."
NPD Solarbuzz predicts further consolidation in the solar PV manufacturing sector through 2014, providing opportunities for market share gains. Module ASPs will continue to decline at a slower rate than in the last two years, which will provide an opportunity for leading module suppliers to implement cost reduction steps and create a profitable environment when the end-market demand approaches 46 GW in 2015.
"Surviving the downturn phase of 2013 and 2014 remains the key objective for all solar PV manufacturers," Barker noted. "Module suppliers with profitable business models will emerge as market leaders. In 2015, they can expect an industry that offers strong growth and revenue potential, which should restore confidence in the PV manufacturing sector and lead to further investments in new capacity and next-generation technologies."
About NPD Solarbuzz
NPD Solarbuzz, part of The NPD Group, offers Marketbuzz, Solarbuzz Quarterly, and annual downstream photovoltaic (PV) market reports, providing the solar energy and PV industries with global historical and forecast data for the PV supply chain. For more information, visit www.solarbuzz.com or follow us on Twitter at @Solarbuzz.
About The NPD Group, Inc.
The NPD Group provides global information and advisory services to drive better business decisions. By combining unique data assets with unmatched industry expertise, we help our clients track their markets, understand consumers, and drive profitable growth. Sectors covered include automotive, beauty, entertainment, fashion, food/foodservice, home, office supplies, sports, technology, toys, video games, and wireless. For more information, visit npd.com and npdgroupblog.com. Follow us on Twitter: @npdtech and @npdgroup.
Featured Product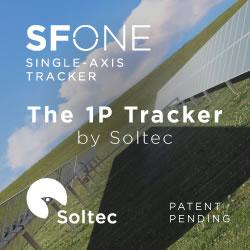 Under the slogan "engineered for greatness", the SF8 tracker aims to revolutionize the photovoltaic market with its new minimum 2x60 configuration and 4 to 6-strings. This tracker is elegantly designed while it reinforces its structure to perform in any terrain. In addition, the SF8 tracker increases the rigidity of its structure by 22% more than the previous generation of Soltec trackers, the SF7. The SF8 is specially designed for larger 72 and 78 cell modules, an increasing market trend.