Europe is the world's largest solar market, accounting for 57 percent of global installations in 2012.
El Segundo, Calif. (April 23, 2013)—Reflecting a major shift in the global solar market after four years of severe erosion, prices for photovoltaic (PV) modules in the key European market are rising due to number of factors—including the newly restored balance between supply and demand.

The average selling price (ASP) for Chinese crystalline silicon (c-Si) PV modules shipped to the European Union increased by 4 percent in March, the first monthly rise since January 2009, according to the IHS iSuppli PV Module Price Tracker from information and analytics provider IHS (NYSE: IHS). Prices are set to rise by another 1 percent in April and by an average of 4 percent during the next three months, as presented in the attached figure.
"For years, solar module manufacturers have contended with profit-killing market conditions characterized by oversupply and rapidly falling prices," said Glenn Gu, senior analyst at IHS. "Now, with clear signs that the balance between supply and demand is correcting, prices have stopped their decline and have begun to rise. This is mostly good news, because sales are increasing from Asia, causing worldwide demand to catch up with supply. On the other hand, prices also are rising because of antidumping legislation in the European Union, which is negatively impacting sales for Chinese suppliers."
Europe is the world's largest solar market, accounting for 57 percent of global installations in 2012.
The good news and the bad news
The rise in worldwide demand is arising from booming sales in China and Japan. Both countries at present are soaking up massive volumes of modules, helping boost worldwide pricing.
Japan commands a particularly high module ASP, which is pulling up pricing in Europe and worldwide.
Meanwhile in China, the government is expected to reduce its feed-in tariff (FIT), which serves to incentivize solar installations and drive the sales of modules. The Chinese incentive is spurring faster adoption of solar systems while the FIT terms are still attractive.
However, as part of its antidumping action, the EU in early March commenced compulsory registration for imported Chinese solar products. This made many Chinese suppliers unwilling to ship or clear modules through customs to the region. In turn, the development triggered a significant solar module shortage in major European markets such as Germany and the United Kingdom.
Along with increasing administrative costs, the phenomenon has driven up prices in Europe.
Positive momentum
The upward price pressure is expected to continue, although the rate of increase is slowing in April compared to March as the rising price starts to dampen demand.
However, looking further ahead into May and June, Chinese module prices in the EU are expected to climb rapidly, driving up overall average module prices globally.
With many Chinese module suppliers cutting back shipments or withdrawing from the market ahead of the preliminary EU solar anti-dumping decision to be announced in early June, the module shortage in Europe is expected to intensify. Average Chinese module prices by the end of May are expected to rise from 5 to 6 percent compared to March, reaching $0.691/Wp or EUR 0.53/Wp.
Tiers of joy
All told, pricing is on the increase from Chinese suppliers of all tiers.
For instance, prices of Tier 1 Chinese suppliers grew by 2.3 percent during the month of March2013, while the average prices of second- and third-tier Chinese suppliers went up by 2.8 percent and 1.4 percent, respectively, during the same period.
About IHS (www.ihs.com)
IHS (NYSE: IHS) is the leading source of information, insight and analytics in critical areas that shape today's business landscape. Businesses and governments in more than 165 countries around the globe rely on the comprehensive content, expert independent analysis and flexible delivery methods of IHS to make high-impact decisions and develop strategies with speed and confidence. IHS has been in business since 1959 and became a publicly traded company on the New York Stock Exchange in 2005. Headquartered in Englewood, Colorado, USA, IHS is committed to sustainable, profitable growth and employs 6,700 people in 31 countries around the world.
Featured Product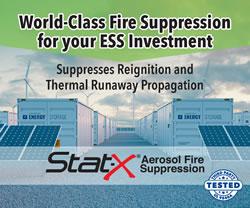 Stat-X® condensed aerosol fire suppression is a solution for energy storage systems (ESS) and battery energy storage systems (BESS) applications. Our Stat-X condensed aerosol fire extinguishing product was tested for efficacy in suppressing li-ion battery fires. It was found that the product successfully extinguished single and double cell battery fires. This testing was conducted in parallel with a large battery fire testing program on behalf of a large energy storage company.