EJOT Solar Fastening Systems introduces an alternative sealing system for its EJOT Solar Fastening Systems JA3 & JZ3 for trapezoidal metal panel roofs.
Custom
ers now can decide if they want to use EJOT's products with standard sealing element FZD (conical shaped EPDM washer) or inquire about a sealing element that has been designed for the exact roof profile the solar system will be installed on – the so called EJOT ORKAN Storm Washers. An EJOT ORKAN Storm Washer selection guide – combining the common roof profiles in North America with the respective sealing element is available online on www.ejot-usa.com. Products are available from stock in Kenosha, WI or through many of EJOT's North American solar distributors.
Featured Product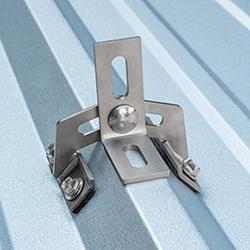 Error-Proof Compression: The QB2 doesn't leave any room for user error when it comes to Microflashing® compression. Once the Dual Drive Shoulder Screw is secured, the Microflashing® is compressed. Only 3 Components: The QB2 is comprised of Microflashing®, an L-foot and a Dual Drive Shoulder Screw. No more Nuts needed to tighten and secure the L-foot! Not only does this simplify the installation process, it also cuts down the installation time.