EJOT Solar Fastening Systems introduces an alternative sealing system for its EJOT Solar Fastening Systems JA3 & JZ3 for trapezoidal metal panel roofs.
Custom
ers now can decide if they want to use EJOT's products with standard sealing element FZD (conical shaped EPDM washer) or inquire about a sealing element that has been designed for the exact roof profile the solar system will be installed on – the so called EJOT ORKAN Storm Washers. An EJOT ORKAN Storm Washer selection guide – combining the common roof profiles in North America with the respective sealing element is available online on www.ejot-usa.com. Products are available from stock in Kenosha, WI or through many of EJOT's North American solar distributors.
Featured Product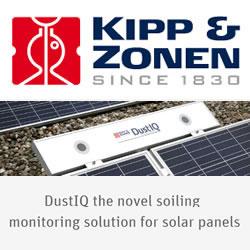 Soiling of the panel glass is one of the major problems in the rapidly expanding solar energy market, with the attendant loss of efficiency and reduction in performance ratios. Now, there's a new, simple and very cost-effective alternative. Based on Kipp & Zonen's unique Optical Soiling Measurement (OSM) technology, DustIQ can be easily added to new or existing solar arrays and integrated into plant management systems. The unit is mounted to the frame of a PV panel and does not need sunlight to operate. It continuously measures the transmission loss through glass caused by soiling, so that the reduction in light reaching the solar cells can be calculated.