The World Energy Council hosts event in Beijing to assess ambitions of new Chinese government
BEIJING & SEOUL – 25 April 2013: The World Energy Council's China

International Summit opens today in Beijing to explore the long-term energy
options facing the country's new government.
The one-day closed summit will be one of the most important international
energy events to be held in China since the leadership transition. National
and international experts will discuss the choices facing China as it
continues to experience the world's fastest growing and biggest energy
demand.
Today's Summit will draw on the WEC's unrivalled wealth of knowledge,
including its flagship studies on energy policy, scenarios and resources, to
examine China's energy future.
The meeting will also act as a prelude to major sessions at the World Energy
Congress, the world's premier energy gathering, which is due to take place
on 14–17 October in Daegu, South Korea. The Chinese government and industry
have already committed to sending one of the largest delegations to the
Congress which will host up to 5,000 delegates from around the world.
Dr. Christoph Frei, Secretary General of the World Energy Council, said:
"China is in the centre of many critical energy developments. It has the
world's biggest renewables and coal industries; it is facing water scarcity
and pollution challenges; and it may be the next country to benefit from a
shale gas revolution. We want to understand, within the global energy
transformation, whether there is a refocus of ambition within the new
government. With so many exciting stories in China yet to be told, we look
forward to hearing more about China's energy challenges and opportunities at
both the Summit and our World Energy Congress in October."
The China International Summit, will be co-hosted by Mr. Zhang Guobao,
Chairman of the China Industrial Overseas Development and Planning
Association (CIODPA), and Mr. Pierre Gadonneix, Chairman of the World Energy
Council (WEC), the event will be addressed by Mr. Cho Hwan-eik, Chair of the
Organising Committee of the 2013 World Energy Congress and CEO of the Korea
Electric Power Corporation (KEPCO).
Cho Hwan-eik, Chair of the Organising Committee of the 2013 World Energy
Congress, said:
"The energy choices of China's new leaders will have a significant impact on
Asia and the world beyond. We enjoy an excellent relationship with our
friends in China at the very highest level, and look forward to continuing
to engage in dialogue with them both here at the Summit and in Korea this
October at the World Energy Congress, where China will have a significant
presence."
Topics on the China summit agenda include an overview of world energy
issues, the challenge of balancing energy demand with environmental concerns
such as water needs and greenhouse gas emissions, the future of renewables
and unconventional gas, and the potential leadership role for China in
global energy governance.
The World Energy Council's China International Summit will hear from Chinese
government representatives, leading Chinese universities and institutions
such as the National Development Reform Commission's think tank, the Energy
Research Institute; the State Grid Corporation of China; Chinese and
China-based private sector; senior executives from utility and natural gas
companies such as CLP Group, one of the leading power companies in the
Asia-Pacific region, Korea Electric Power Corporation, GDF Suez, and Hess
Corporation will also be among those present.
Featured Product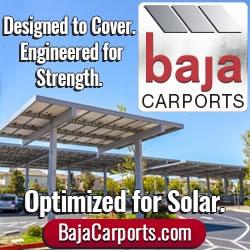 Baja Carports offers an extensive solar support system product line customized to customers' site specifications by in-house engineers, meeting their parking lot coverage, plus optimal PV production needs. Baja's Full Cantilever Tee is often paired with its Semi and Full Cantilever carports to meet live/loads up to 60psf and wind speeds to 160mph. All Baja products are pre-fabricated, bolted connections, pre-galvanized structural steel for fast on-site installation and project aesthetic requirements."