meeco finalizes 2450 Wp remote solar water pumping project near Pirizal, Chaco
ZUG/ASUNCIÓN. The meeco Group subsidiary in Paraguay continues to grow with the achievement of a new sun2flow deep well pump installation, situated near the location of Pirizal in the Paraguayan Chaco, Department of Boquerón. This 2.450 Wp deep-well project has been recently installed at the beginning of April and its primary focus and objective is to pump water needed to provide the client's cattle with drinking water.

With over 4 hours distance, separating the site from the capital of Boquerón, Filadelfia, the sun2flow solar powered pumping solution solves a substantial and expensive whilst unreliable diesel dependence problem. In just one day and two weeks after the initial order, meeco América Latina S.A. has installed the 2,450 Wp sun2flow fixed system using 10 polycrystalline solar modules and a 40 meter depth centrifugal pump with a daily output of exceeding 40.000 Liters. Pirizal being situated 23 degrees south of the equator, the modules have been oriented north with an inclination of 22º and are expected to produce more than 4.000 kWh of usable electrical energy per year. By using a sun2flow solar powered water pump, the owner of the installation will save approximately 6.000 Liters of Diesel per year.
"In a country known for its hydroelectric power generation, The meeco Group has been steadily adding new sun2flow and sun2live solar projects, mostly off-grid and for agriculture as well as small isolated villages", says Dr. Oliver Jann, President of meeco América Latina S.A. "Paraguay has a considerable number of opportunities in the solar energy sector, both because energy is needed in far away places and because the country has ideal solar irradiation values. We are determined to pursue our goal to provide energy everywhere in Paraguay and Latin America" adds Dieter Trutschler, Sales Director of The meeco Group.
About The meeco Group: The meeco Group was consolidated in 2000 and oriented its main focus towards the energy sector. With world headquarters located in Zug, Switzerland, the group currently has over 50 employees working across 4 continents. Thanks to a structured but flexible approach based on its core competencies, meeco has delivered over 250 MW of clean, renewable energy solutions across four continents. The meeco Group accomplishes its mission by providing project developers, investors, governments, and private businesses with the services necessary for timely financing, installation, and operation of clean energy assets.
For further information visit: www.meeco.net
Featured Product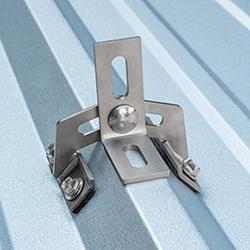 They have been changing the game for 10 years with their original Top Mount line for Asphalt Shingle roofs, and by now supplying one of the widest ranges of solar mounts in North America. From their patented products, to the custom production services they offer, QuickBOLT has been working with solar installers for nearly a decade to make solar installations easier than ever before.