Enel Green Power Latin America and Quiborax have recently joined the quickly growing list of international companies investing in PV power in Chile.
News came today that Enel Green Power Latin America has lodged plans for three solar parks in Antofagasta. The parks will total over 400MW of power and are projected to r require a total of US$ 865 million of investment. Two of the plants will be connected to the northern grid (CDEC- SING) and the other will serve the main central grid (CDEC- SIC)

Whilst much hype has been made about the potential for solar power in Chile there is confusion over which projects will actually go ahead. Hundreds of projects have received environmental permission. However, PPAs, financing and stable grid connections are often not included at this stage of permitting, and so environmental approval is not an accurate predictor of whether projects will go ahead.
That being said, Enel green power have a long and successful track record in Chile, with over 92MW of hydropower already installed and two wind farms currently under development. As a company which is also developing wind, their choice of solar-PV demonstrates that this technology can compete with wind, which has a longer history of development in the country.
The appearance of one of the biggest energy companies in the world, with the financing, experience and market understanding to devote serious time to solar, validates the market and may serve as a stamp of approval to banks interested in Chile.
Enel Chile is not the only major international company to invest in solar power. Quiborax which has operations in Bolivia as well as Chile, issued a PPA earlier in the year to Sunedison. The 2MW project under development is the result of a joint partnership between E-CL and Quiborax to supply power to the local town of Aguila. With all the news of project approval and planning the biggest question once projects have been announced is when will be starting construction?
2013 will be a major year for solar power in Chile, seeing the construction of several high profile plants including the 25MW Pozo Almonte Solarpack plant and the Quiborax-E-CL plant. Enel, Solarpack and Sunedison are all proof that Chile's solar potential is realisable and profitable despite challenges in the grid and in financing.
Therefore, PV Insider have announced this week that PV Insider Latam 2013 (10-11 September, 2013) will be tackling the key technical and financial barriers to project development by holding interactive discussions with leading financiers including Banco BICE, Santander and the Inter-American Development Bank
In addition the CEO of Solar Pack, Pablo Burgos will join Jorge Amiano, Director of Chile at SunEdison and Daniel Ocqueteau, Head of Legal affairs at Quiborax who will all be informing companies on how to take advantage of the solar resource and get PPAs at PV Insider Latam (10-11 September, Santiago, Chile)
For more information on the event visit: http://www.pv-insider.com/latam/en-index.php
Featured Product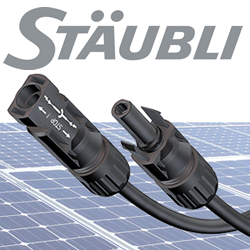 ​Stäubli Electrical Connectors are used on more than 300 GW, over 50% of the PV capacity worldwide. The MC4 family of UL and TUV listed products include connectors, in-line fuses, branch connectors, cable assembly and more.