Composite bearings technology provides long-term solution for solar and wind applications
30 April 2013 – An early glimpse into the 2013 Annual Energy Outlook from the US Energy Information Administration reveals that increased generation from renewable energy is expected to account for 32 per cent of the overall domestic growth in electricity generation from 2011 to 2040. With this insight and reports of global growth forecasts in renewable energy from both financial and market analysts in mind, Saint-Gobain Performance Plastics today announced its strategic initiatives for composite bearings applications in renewable energy markets.

The Bearings and Tolerance Rings Group at Saint-Gobain designs composite bearings solutions that withstand harsh vibration, improve efficiency, extend performance and reduce operational downtime in both solar energy and wind turbine applications. As part of its strategic focus in renewable energy markets, Saint-Gobain has added the design engineering expertise of Industrial Global Market Manager, Edward Rumble to its team. With his extensive design and engineering experience, Rumble will lead the increasing efforts to develop the next generation of composite bearings for solar and wind applications.
"Renewable energy, fuelled by innovative solar and wind turbine technologies, will prove to be the future of sustainable power generation", said Rumble. "To help today's and tomorrow's leaders in renewable energy production, we are committed to partnering with OEMs to deliver innovative solutions that enhance efficiency in solar and wind applications".
For the solar market, Saint-Gobain manufactures an innovative, maintenance-free composite bearing. Proprietary fluoropolymer compounds in SOLGLIDE® composite bearings increase the long-term operational efficiency of solar equipment, reduce energy usage and decrease long-term costs. SOLGLIDE® composite bearings are specifically designed for Concentrated Solar Power (CSP) plants, applied at pivot points in all major tracking systems. Rumble and his team of design engineering experts are currently working on innovative composite configurations for bearings that offer even greater performance for large scale CSP projects.
For the wind turbine market, 2013 will see the introduction of a series of composite bearings solutions from Saint-Gobain. "Our application engineering teams are currently developing the next generation of composite bearings technology for wind turbine applications", said Rumble. The composite bearings will be able to withstand the harsh vibrations that occur in wind turbine applications while reducing operational downtime. "This is the next step for Saint-Gobain in offering solutions that enhance the production of renewable energy".
Efforts within the operation of Saint-Gobain are also making significant strides in sustainability. The Environmental Protection Agency (EPA) recently recognised Saint-Gobain with the 2013 ENERGY STAR Sustained Excellence Award for Continued Leadership in Energy Conservation for the third consecutive year. Over the last year, the company achieved energy savings of three per cent, equating to avoiding more than 82 tonnes of carbon dioxide emissions.
About Saint-Gobain Performance Plastics Bearings and Tolerance Rings SBU
Saint-Gobain is a global leader in the design, production and distribution of innovative, high performance materials for industry and employs around 195,000 people. With operations in over 64 countries, Saint-Gobain is the 60th largest employer and among the top 100 global industrial companies worldwide. Last year, Saint-Gobain achieved global sales of over €42 billion. Saint-Gobain is listed on the stock exchanges of Paris, London, Frankfurt, Zurich, Brussels and Amsterdam. Saint-Gobain's global strategy is focused around three core markets: Construction Products, Innovative Materials, and Building Distribution; and, the company is committed to play a leading role in developing energy efficient innovations for the housing and construction sectors, protecting the environment, and managing growth in a sustainable fashion.
With 15 sites and six R&D centres globally, the Bearings and Tolerance Rings Group, a division of Saint-Gobain Performance Plastics, provides 'engineer-to-engineer solutions-in-motion' to high volume international OEMs in the automotive, leisure, energy, industrial, and other markets. Backed by a heritage of product innovation, technology, advanced materials and market leadership, they are dedicated to working with customers using their extensive engineering expertise to deliver standard and custom solutions in NORGLIDE® composite bearings, RENCOL® tolerance rings, SOLGLIDE® composite bearings, JOINSHIM® rings, and NORSLIDE® cable liners that meet the most demanding applications. For further information, please visit: www.bearings.saint-gobain.com
Featured Product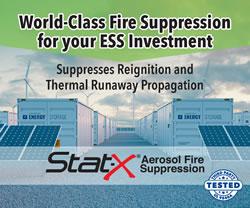 Stat-X® condensed aerosol fire suppression is a solution for energy storage systems (ESS) and battery energy storage systems (BESS) applications. Our Stat-X condensed aerosol fire extinguishing product was tested for efficacy in suppressing li-ion battery fires. It was found that the product successfully extinguished single and double cell battery fires. This testing was conducted in parallel with a large battery fire testing program on behalf of a large energy storage company.