Dow Solar's customers can now monetize their SRECs through a streamlined process designed by Sol Systems to improve the financial return on their solar investment.
WASHINGTON, April 30, 2013 -- Sol Systems and Dow Solar, a business unit within The Dow Chemical Company, today announced a strategic alliance to provide turnkey solar renewable energy credit (SREC) solutions for DOW POWERHOUSE™ Solar Shingles customers. Dow Solar's customers can now monetize their SRECs through a streamlined process designed by Sol Systems to improve the financial return on their solar investment.

"We are pleased to offer this additional service for our POWERHOUSE customers," said Yochai Gafni , Dow Solar's Market Development Director. "POWERHOUSE is a smart home investment, but managing all of the available incentives can be cumbersome for homeowners. The alliance with Sol Systems will enable our POWERHOUSE Authorized Dealers to act as a one-stop shop for solar roofing and SREC management, which will differentiate them in their markets."
Sol Systems will provide Dow Solar customers in Maryland, Massachusetts, and Washington, D.C. with the opportunity to lock into SREC contracts. Sol Systems eliminates the administrative burden of monetizing SRECs for its customers and partners by providing access to its proprietary SREC management tool, registering the systems with the necessary state and regulatory bodies, tracking meter readings, and handling all SREC customer service inquiries.
POWERHOUSE Solar Shingles install like traditional roofing shingles but provide solar electricity to power homes. POWERHOUSE is currently available in select U.S. markets through Dow's Authorized builders and roofing contractors. POWERHOUSE Solar Shingles have won several awards for their innovative design, including recognition as one of TIME magazine's 50 best inventions.
"Sol Systems is proud to be working with Dow Solar," said Sol Systems' CFO, George Ashton . "The combination of Dow's innovative product with our SREC monetization execution allows customers to make a smart and easy investment in solar."
Sol Systems is the largest SREC aggregator in the nation and offers a suite of SREC financing solutions to customers in 13 states throughout the Midwest and Mid-Atlantic. In addition to SREC services, Sol Systems provides project financing and structuring expertise to solar developers and renewable energy investors.
About Sol Systems
Sol Systems is a boutique financial services firm that offers investor clients direct access to the renewable energy asset class and provides developers with sophisticated project financing solutions. Founded in 2008, Sol Systems focuses on meeting the most critical needs of the industry, including SREC monetization, capital placement, tax equity, and New Market Tax Credits. To date, the company has arranged financing for thousands of projects and facilitated hundreds of millions in investment on behalf of Fortune 100 companies, private equity, family offices and individuals. For more information, please visit http://www.solsystemscompany.com/.
About DOW POWERHOUSE™
The DOW POWERHOUSE™ Solar Shingle is a first-of-its kind solar roofing product, developed to combine the benefits of solar technology with the durability and performance of traditional roofing materials. It is designed to install, look and function in a way that has never been done before. POWERHOUSE is reinventing the roof with a new generation of homeowners looking for a smart, renewable way to power their homes without compromising the home's aesthetics. Building Integrated Photovoltaic (BIPV) products from Dow Solar are one of the many innovations from Dow establishing the Company on the forefront of alternative energy solutions and expanding Dow's commitment to using chemistry to solve the world's energy challenges. The DOW POWERHOUSE™ Solar Shingle was recently honored as a recipient of a 2012 Breakthrough Award by POPULAR MECHANICS, and a 2012 Gold Edison Award for Best New Product. In 2009 it was named as one of the Best Inventions by Time Magazine. More information about DOW POWERHOUSE can be found at www.DOWPOWERHOUSE.com. Homeowners and building professionals can also follow DOW POWERHOUSE on Facebook, Twitter, Pinterest, or via YouTube.
About Dow
Dow (NYSE: DOW) combines the power of science and technology to passionately innovate what is essential to human progress. The Company connects chemistry and innovation with the principles of sustainability to help address many of the world's most challenging problems such as the need for clean water, renewable energy generation and conservation, and increasing agricultural productivity. Dow's diversified industry-leading portfolio of specialty chemical, advanced materials, agrosciences and plastics businesses delivers a broad range of technology-based products and solutions to customers in approximately 160 countries and in high growth sectors such as electronics, water, energy, coatings and agriculture. In 2012, Dow had annual sales of approximately $57 billion and employed approximately 54,000 people worldwide. The Company's more than 5,000 products are manufactured at 188 sites in 36 countries across the globe. References to "Dow" or the "Company" mean The Dow Chemical Company and its consolidated subsidiaries unless otherwise expressly noted. More information about Dow can be found at www.dow.com.
Featured Product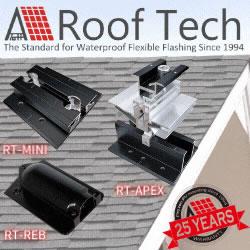 Now Roof Tech brings you the most innovative, watertight mounting systems ever developed for solar photovoltaic systems. Designed and manufactured exclusively for us by Japan's longtime leader in roofing technologies, Roof Tech products are 100% code-compliant and offer fast, simple installation and huge savings on shipping costs due to their compact, rail-less design. Learn more about our full line of versatile PV mounting solutions now available for residential installations. The next generation in rooftop solar mounting solutions."