ISYS Ground elected system for largest single solar array in Tennessee
ALBUQUERQUE, N.M., April 30, 2013 -- Unirac, Inc., a Hilti Group Company the leading provider of mounting solutions to the solar industry in North America, is playing a large role in powering up the biggest solar park of any car manufacturer in North America today.

The project involves Europe's biggest carmaker – Volkswagen, and its recently-constructed 33,600 panel solar park in Chattanooga, Tennessee. The solar park, which sits on 33-acres right next to the factory where the popular mid-size VW Passat is produced, will provide nearly 13-percent of the plant's energy – an amount that could power 1,200 households per year.
"This has been a tremendous collaboration for Unirac", said Peter Lorenz , CEO, Unirac. "The opportunity to work with Phoenix Solar US and Silicon Ranch really demonstrates Unirac's ability to accommodate a broad range of foundation options in a major commercial project such as this one."
The Unirac ground mount solution, specifically engineered for the Volkswagen Solar Park project, combines its successful ISYS™ Ground Mount 2.0 with custom racking, resulting in an optimized total installed cost. The ISYS Ground 2.0 allowed for pre-assembly of module columns prior to installation of foundations and racking. Additionally, contractors were able to build the subassembly while assembling modules to rails in a controlled environment. This method produced a shorter project turn-around time and reduced field-labor, allowing Volkswagen to achieve greater cost savings.
"Close collaboration with Phoenix Solar US has helped us engineer a superior product while reducing the total installation cost of this project," said Tony Borck , Vice President Utility Group, Unirac. "We're excited to be part of a project that has gained the awarding of LEED Platinum certification to Volkswagen by the USS Green Building Council."
About Unirac Inc. ®Unirac, a Hilti Group Company the leading provider of mounting solutions to the solar industry in North America. Recognized as an industry innovator on both the product and process side, Unirac is one of the fastest growing companies in the solar industry. Unirac has achieved certifications for both ISO 9001:2008 for QMS and ISO 14001:2004 for EMS. Its industrial-grade solar mount solutions meet 'Made in America', 'Buy American', ARRA and Ontario Power Authority FIT and microFIT criteria. For more information about Unirac, please visit http://www.unirac.com.
Featured Product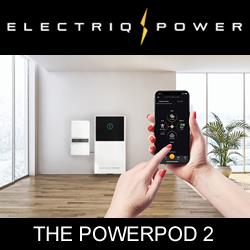 The Electriq PowerPod 2 is a fully-integrated home energy storage, management, and monitoring system powered by LFP batteries. The high-performance, cobalt-free product includes a hybrid solar/battery inverter controlled by intelligent software. The PowerPod 2 provides backup power and can self-consume or export excess power back to the grid.