Air Group, Whippany, New Jersey to get 80% of its energy from Solar
Whippany, New Jersey May 01, 2013

BSC Clean Energy, an emergent renewable energy company in New Jersey, added to their list of renewable energy commercial solar projects with the recent activation of a solar rooftop system for Air Group, a leading heating, cooling, plumbing and electrical contractor in Whippany, New Jersey. The system incorporates 1,136 - 235-watt Trina panels utilizing Trina's Zip-mount racking system on a flat roof. The solar installation is estimated to produce over 300,000 kWh of clean renewable energy each year and save Air Group nearly $1Million in electricity bills over the life of the system.
BSC Clean Energy once again chose Chris Anderson Roofing & Erecting Company as their EPC contractor. Anderson has managed the installation of all of BSC Clean Energy's commercial installations, which recently includes five schools within the Woodbridge Township, New Jersey school system, a private academy in Ewing Township, New Jersey and an industrial warehouse in the City of Millville, New Jersey. The companies plan on working together again on a new installation slated to begin soon in Ocean County, New Jersey.
About BSC Clean Energy:
BSC Clean Energy merges technology and capital structure to create optimal renewable energy finance solutions for corporations, governmental entities and educational institutions. The parent company of BSC Clean Energy is Bielat Santore & Company, a New Jersey based real estate development firm that over the last thirty (30) years has entitled and financed, in various credit markets and multiple industries, over one and a half billion dollars in residential and commercial real estate project.
About Chris Anderson:
Since 1906, Chris Andersen Roofing & Erecting Company has meant integrity, service and quality to building owners and consultants across New Jersey and in NYC. Chris Andersen has built a team of professionals from various backgrounds including engineering, distribution and several former business owners. It is from this broad base that the company has developed into a sought after partner in roof replacement, integral decking systems, standing seam, green roofing, preventative maintenance and renewable solar energy.
Featured Product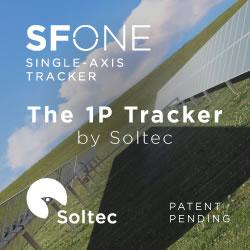 Soltec manufactures and supplies solar trackers designed and proven for extreme climate conditions, which is an ideal solution for any region's environment. Soltec's trackers are self-powered, requiring no additional PV module or grid-powered connection. Bifacial modules collect energy on both the front and rear sides, capturing reflected irradiance from the ground surface under and around the tracker and from other modules. Depending on site conditions, bifacial yield-gain can reach +30 percent.