How can professional women in the solar industry encourage greater participation from the next generation of engineers, investors and business women?
In the lead-up to Women's Solar Seminar 2013, Mona Ghalayini, Chairman and Founder of Arab Society for Environment and Sustainable Development, Project Coordinator of the Euro-Arab Bank for Environmental Development in Geneva and board member of Woman and Environment Committee in Geneva answers questions in relation to the discussion 'Empowering Women in Science & Technology' she is set to present on May 13th.

How can professional women in the solar industry encourage greater participation from the next generation of engineers, investors and business women?
''Engineers and architects are part of the society and they have a moral and ethical role in designing and developing our safety, environment and life Style, three factors which create our home. Aside from the role of the universities/engineering faculties in introducing new theories in their programs and graduation projects, women in the solar industry have a vital role. This can be spreading awareness by seminars, presentations, round tables / direct discussions and conferences or by visiting and showing case studies of the new technologies as added values to our environment and their role in building and construction industry. This can encourage and push engineers, investors and businesswomen to adopt and apply new standards and measures in their productions, projects ,trading and investments in purpose to add values and to get profit returns in parallel.
What steps need to be taken across education, policy and business strategies to develop a strong workforce for women?
Women empowerment differs from one country to another depending on culture, traditions and law. First of all, in order to create any change in a society we have to rely on education and especially woman's because she's the core of the family and she impresses all its members by her major, basic and leader role in her family. The case is to educate woman whatever her circumstances are in order to build a strong base to start her own career towards her economic independence which will make her reach her real freedom and equality.
Regarding laws and policy, gender equality, there still needs to be a lot done, it must be created or modified depending on each country needs and developments. Investors must focus on new business strategies by applying gender equality on all business levels, wages, positions and creativity. Those steps combined all together will develop the strong workforce for women.
In association with MENASOL 2013, CSP Today/PV Insider is happy to announce Women's Solar Seminar 2013. The event aims to create a forum for both men and women to come together and discuss the opportunities and challenges women face in the solar industry and Middle East & North Africa.
The event has now confirmed speakers from Ernst & Young, Masdar Institute, Accenture, ESIA and the Dubai Supreme Council of Energy, which highlights the importance of this seminar to influential renewable energy focused organisations and corporations within the Middle East & North Africa region.
If you haven't already, register now to be a part of lively solar focused debates and discussions set to take place on May 13th at the Hyatt Regency Dubai Hotel.
For any queries or questions regarding Women's Solar Seminar 2013, please email nikita@csptoday.com
Featured Product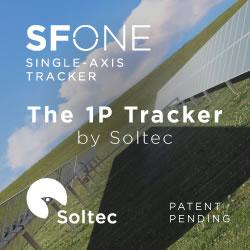 SFOne is the 1P single-axis tracker by Soltec. This tracker combines the mechanical simplicity with the extraordinary expertise of Soltec for more than 18 years. Specially designed for larger 72 an 78 cell modules, this tracker is self-powered thanks to its dedicated module, which results into a lower cost-operational power supply. The SFOne has a 5% less piles than standard competitor, what reduces a 75% the labor time.