RBI Solar completed 2.15MW ground mount solar project at the Cedarville University. RBI's fixed tilt ground mount system is used for the largest University installation in Ohio
Cincinnati, OH May 01, 2013

RBI Solar, Inc. ("RBI"), Ohio based solar racking manufacturer, announces the completion of 2.15MW fixed ground mount solar project at Cedarville University in Cedarville, OH. Melink Corporation is the EPC and developer for this project, which will produce enough energy to power over 250 homes. Melink selected RBI's proven-fixed tilt ground mount solar for this project, which is considered the solar industry's most robust and economical ground mount solution for utility scale solar projects.
RBI's team of structural engineers and project managers considered the local environmental and site conditions to provide a complete solar racking solution. RBI took into account module dimensions, soil conditions, seismic zoning and meteorological considerations when designing the system. RBI crew installed over 1000 posts to support 8,792 modules using state of the art hydraulic impact hammer post driving machines.
"RBI is honored to have been chosen by Melink to supply and install the solar mounting structures for this 2.15MW fixed ground mount solar project at Cedarville University, " says Bill Vietas, General Manager of RBI Solar. "Partnership between two OH based companies, RBI solar and Melink, started back in 2010 from a ground mount solar project, at Melink HQ, which is a net-zero energy LEED Platinum building. Since then we have worked with Melink on many solar projects including the well-known Cincinnati Zoo Solar canopies."
Colin Derhammer, Senior Design Engineer at Melink Corporation, added, "Melink has a great relationship with RBI and we were happy to again partner on the Cedarville University Solar Array. We ran into some adverse winter weather but RBI was able to step up and finish the job in a professional manner. Thanks to RBI's robust design, we look forward to providing Cedarville University with clean, renewable energy for decades to come."
About RBI Solar:
RBI Solar, Inc. is the leading turn-key supplier of solar mounting systems. As a specialist in ground mount solar, roof mount solar, and custom designed specialty solar structures, RBI Solar focuses on providing best-in-class solar racking systems, solar installation services and project management capabilities to serve owners and integrators. RBI Solar has engineers on staff licensed in all 50 states and offers complete design, high tech manufacturing, nationwide installation and technical support to help solve the toughest challenges in the industry. Leveraging more than 80 years of experience in the commercial design-build specialty structures market, RBI Solar, works with its clients to identify the most economical, durable and robust solution for your next solar installation. Click here to learn more: http://www.rbisolar.com/company/main/
About Melink Corporation
Melink Corporation is committed to sustainability and provides energy savings for their customers through HVAC commissioning services, demand ventilation controls for commercial kitchens and solar power projects. The company's headquarters is a LEED Platinum, Net Zero Energy facility designed to demonstrate that sustainability is good business. With full in-house development, design and implementation capabilities, Melink is a leading solar PV integrator of commercial projects. Please visit http://www.melinkcorp.com.
Featured Product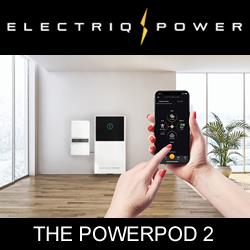 The Electriq PowerPod 2 is a fully-integrated home energy storage, management, and monitoring system powered by LFP batteries. The high-performance, cobalt-free product includes a hybrid solar/battery inverter controlled by intelligent software. The PowerPod 2 provides backup power and can self-consume or export excess power back to the grid.