Non-profit tabs into power of sun to eliminate electrical bill; Energy sustainability vital approach to securing long-term financial future
Chino (California), May 7, 2013. ó When Conley's Manufacturing and Sales and the Chino Fairground Association started out in 1946 and 1956 respectively, neither one of them probably expected that one day they would be working together on a photovoltaic system to eliminate electricity costs.

Conley's Manufacturing and Sales began as a small welding shop in the garage of company owner John Conley in Montclair, California. Quickly the company established a stellar reputation among its customers, mainly farms and nurseries in Southern California, and became an innovative leader in greenhouse design and manufacturing. Today Conley's Manufacturing is still family owned but has grown into a world-recognized supplier of quality greenhouse structures and related equipment. Closely attuned to what customers need, the company recently added a solar division to its portfolio to offer growers alternatives in managing energy costs.
Back in 2008 Conley's custom designed and built a 50 ft x 120 ft metal pavilion for the non-profit organization Chino Fairgrounds in Chino, CA. The outdoor structure seats about 540 people and is used to host fairs, rodeos, and other agricultural and family friendly events. Challenged by the need to juggle rising electricity costs and energy consumption for the fairground's many buildings (the organization also operates an 11,000 sq ft banquet hall and Sholander Arena), board members approached the manufacturer for ideas.
President Tom Conley explains: "Our team has been busy using our resources to research and develop innovative ways for the agriculture industry to harvest the sun's energy for the past 67 years, so we're really excited about future opportunities that a natural-fitting solar division at Conley's can bring."
The long-term energy investment solar panels provide was soon found to be an ideal fit for the fairgrounds, and Conley partnered with MAGE SOLAR, a US-based provider of high-quality photovoltaic modules with industry-leading warranties. Since the company guarantees 30 years of power output on its products they were an ideal match for the demands the fairground's management had in regards to sustainability and security. Conley's solar division designed and installed the 66 kW photovoltaic rooftop system with 282 MAGE POWERTEC PLUS modules. Annually the solar panels will produce over 102,000 kWh which is enough to offset 100% of the energy needs for the entire fairground.
"The solar installation on Chino Fairgrounds is a prime example that great leaders evolve," adds Joe Thomas, President and CEO of MAGE SOLAR USA. "Investing in an organization's renewable energy future is about firmly establishing roots for its financial sustainability. MAGE SOLAR wants to congratulate both Conley Solar and the Chino Fair Grounds organization for embracing the tremendous opportunities the sun provides and incorporating them so efficiently into their business concepts."
####
MAGE SOLAR – The Sun on Your Side
MAGE SOLAR USA, headquartered in Dublin, Georgia, specializes in complete solar systems and provides high-quality photovoltaic modules, intelligent mounting systems and high-performance brand inverters. As a subsidiary of the international MAGE GROUP, it uses the Group's 40 years of know-how to develop optimally coordinated system solutions. A competent partner network guarantees profitable solar energy systems for customers throughout the Americas and in 21 more countries in Europe, Asia, Africa, and Australia. In 2011, the company generated U$280 mio in sales with around 180 employees.
www.magesolar.com
www.linkedin.com/company/mage-solar-projects-inc
www.facebook.com/magesolar
www.twitter.com/mage_solar
CONLEY's MANUFACTURING and SALES
Conley's Manufacturing and Sales is an innovative leader in greenhouse design and manufacturing and has been providing the Agriculture industry with superior quality greenhouses and related equipment since 1946. What started as a small welding shop operated out of the company founder John Conley's home garage, has become a world-recognized leader in greenhouse technology. Conley's operates its main manufacturing plant out of a 6-acre parcel in Montclair, CA and recently added Conley's Solar Division.
www.conleys.com
Featured Product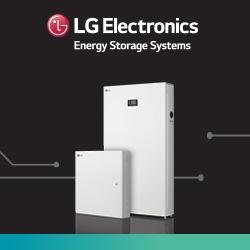 Meet LG Electronics Home 8 Energy Storage System (ESS), a whole home battery backup solution built with installers and their homeowner customers in mind. The ready-to-deploy Home 8 features just one SKU and a modular assembly for fast installation. It can be AC-coupled or solar-powered and is engineered with a grid-connected inverter, four battery modules, and a Smart Energy Box featuring a 7'' LCD touchscreen with commissioning wizard for easy setup. Each Home 8 unit can store up to 14.4 kWh of usable power, helping homeowners gain pure independence from the grid. Plus, installers can connect up to four units, bringing customers up to 57.6 kWh of total backup power-all easily managed and monitored through intuitive mobile apps.