The MOM2 is ideal for testing busbar and cable joints
NORRISTOWN, Pa., May 7, 2013 -- Megger, one of the world's leading manufacturers and suppliers of test equipment and measuring instruments for electrical power applications, now offers a handheld, high current micro-ohmmeter that delivers up to 240 A of current. The new MOM2 is ideal for testing busbar and cable joints as well as carrying out contact resistance measurements on low-, medium- and high-voltage circuit breakers.

The lightweight, versatile MOM2 is safe and easy to use. It features DualGround™ testing for circuit breakers, allowing both sides of a circuit breaker to be earthed while testing and eliminating potential hazards from induced voltages. Its rugged design makes it optimal for work in the field.
Designed to operate from rechargeable batteries that give over 2,000 measurements per charge, this high current micro-ohmmeter can be used to carry out a full day's testing in locations where no power supply is available. The instrument can store up to 190 test values and transfer test data to a PC via Bluetooth. The Bluetooth feature can also be used with a supplied wireless headset to provide an audible pass/fail signal against user-adjustable limits during testing.
The MOM2 uses ultra-capacitor technology to generate high output current and to achieve its unique combination of size, weight and performance. Voltage and current in the test circuit are monitored throughout the discharge process while displaying an average value of resistance on the instrument.
The MOM2 can measure resistance from 1 micro-ohm to 1 ohm. A large LCD screen on the instrument shows results as well as incorporates an analog arc to show the start of charge by the ultra-capacitor.
Depending on the resistance of the test circuits, a guaranteed minimum test current of 100 A can be achieved for three seconds, with higher currents up to 240 A for shorter periods.
Circuit breaker tests performed with the MOM2 conform fully to IEC and IEEE standards.
The MOM2 comes standard with a robust transport case that includes two 4-foot test cables that are fitted with Kelvin probes. The unit also includes a sturdy rubber holster, a charger, a Bluetooth kit incorporating a headset and dongle for computers that lack built-in Bluetooth capabilities as well as a copy of the MOM2 Win software package used for convenient processing and archiving of results.
For more information contact Peg Houck at peg.houck@megger.com or 610-676-8536.
Featured Product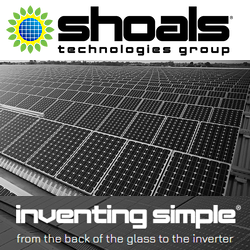 Inventing Simple® isn't just a slogan to us, it's a way of life. Using simple plug-and-play ideology, we revolutionized solar installations in 2003 with our Interconnect System™. Our harnessing system is now the gold standard EPC's use around the world. By using simple ideas, we are making solar energy a more affordable and clean power source for future generations.