SolarOne announces that Philips Solar Lighting Systems with SolarOne's SO-Bright® Technology will be used in the next phase of the Los Angeles River Bike Path.
This will be the fifth major deployment of these SO-Bright® Systems in the City of Los Angeles. This installation spans the Riverside Dr. Bridge (at Figueroa St.) and the N. Spring St. Bridge via a combination of additional bike path and bike lanes.

City officials and residents recently celebrated when the one mile portion of bicycle path between Winnetka Ave. and Vanalden Ave. was officially opened to the public on November 16th. The official ribbon cutting ceremony drew over 60 supporters, including Mayor Villaraigosa, Councilman Dennis Zine, and Friends of the Los Angeles River founder Lewis MacAdams, among others. All of these projects include solar lighting as well as native planting, decorative gates, bioswales, slope stabilization, enriched paving, and safety fencing. The bike path projects are part of a vision developed by the Los Angeles River Master Plan Advisory Committee to enhance the river corridor with open space, as well as environmental, recreational, economic development and educational opportunities.
Why Solar?
SolarOne Lighting - Los Angeles River
The City of Los Angeles uses SolarOne's lighting solutions for a number of reasons. In addition to its zero carbon footprint operation, solar lighting avoids wiring and trenching costs that can be prohibitive, particularly in urban areas. In addition, the City found that replacing LED grid tied lights with solar powered lighting eliminated the problem of costly copper wire theft along the sometimes secluded areas of the bike path.
SolarOne- Solar Lighting Bike Path
SolarOne lighting does not, however, compromise on light levels. Each system contains a data logger that is monitored by the City's Bureau of Street Lighting to confirm and sustain grid tied parity in performance. Because SO-Bright® Technology can be integrated into a wide range of lighting systems, the city was also able to meet the aesthetic requirements of the project.
Providing lighting on bike paths gives more people the opportunity to use them and, for some, the paths become a daily resource versus a "weekends only" retreat. As additional phases are added to the Los Angeles River Bike Path, biking becomes an increasingly viable alternative to driving, contributing to air quality improvement and overall public health.
We appreciate your continuing interest in solar lighting and look forward to hearing your solar lighting success stories.
Featured Product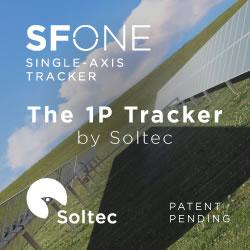 Soltec manufactures and supplies solar trackers designed and proven for extreme climate conditions, which is an ideal solution for any region's environment. Soltec's trackers are self-powered, requiring no additional PV module or grid-powered connection. Bifacial modules collect energy on both the front and rear sides, capturing reflected irradiance from the ground surface under and around the tracker and from other modules. Depending on site conditions, bifacial yield-gain can reach +30 percent.