Company to showcase innovations at CTIA 2013 in Las Vegas this month
CTIA WIRELESS 2013
ST. PAUL, Minn.--The high costs of developing and powering remote tower sites are no longer a barrier to mobile phone penetration in rural, remote, or off-grid locations, thanks to American Resource and Energy, a global supplier of telecom structures. The company, which has supplied thousands of wind towers worldwide, is unveiling a set of self-raising monopole towers, concrete-free foundations and solar power systems that slash installation and operation expenses and promise to accelerate mobile phone and internet adoption in less connected locations.
American Resource and Energy will unveil the products at CTIA 2013, a mobile industry convention and expo, May 21-23, 2013 at the Sands in Las Vegas, exhibit hall booth 2961.
"These systems are uniquely suited to the challenges of remote sites," said Dion Johnson, CEO of American Resource and Energy. "There's no need to bring in concrete or heavy equipment. A foundation and tower can go up on the same day, with no waiting for cure time. That makes it faster and more affordable. In addition, our solar arrays and hybrid power systems cut diesel use, saving costs year after year."
The company's chief telecom innovations include:
*Concrete-free foundations: These patent-pending systems are assembled on-site with basic tools, and can also be disassembled and reused elsewhere. Local rocks, gravel or backfilled soil serve as ballast, and no excavation is required.
*Self-raising monopole towers: A compact motorized device raises the tower from its base, eliminating the need for cranes or heavy equipment.
*Solar power systems: Mounted to the tower or as a separate, free-standing structure, the solar systems (up to 10 kilowatt) reduce or eliminate diesel reliance. Wind-solar-diesel hybrid systems are also available.
About American Resource and Energy
Founded in 2008, St. Paul, Minn.-based American Resource and Energy has quickly become a leading global supplier of towers and related structures. The company specializes in the design, engineering, manufacturing, and delivery of monopole towers for energy and telecommunications applications, assembled foundations, raising systems and light poles, and has produced thousands of wind towers that are in use worldwide. Online at http://www.aretelecom.com
Featured Product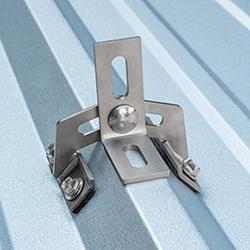 Error-Proof Compression: The QB2 doesn't leave any room for user error when it comes to Microflashing® compression. Once the Dual Drive Shoulder Screw is secured, the Microflashing® is compressed. Only 3 Components: The QB2 is comprised of Microflashing®, an L-foot and a Dual Drive Shoulder Screw. No more Nuts needed to tighten and secure the L-foot! Not only does this simplify the installation process, it also cuts down the installation time.