Industry-leading efficiency and availability in a transformerless central inverter scaling from 15 kW to 150 kW
DALLAS--AEG Power Solutions (FWB:3W9) (AEG PS) is pleased to introduce the new modular photovoltaic (MPV) solar inverter, with leading-edge power electronics in a transformerless, modular design. Engineered for optimum efficiency and availability, the three-phase, transformerless central inverters deliver efficiencies greater than 97 percent in a compact, lightweight modular package. Made in America and built in units of 15 kW, they scale economically from 15 kW to 150 kW, making them perfect for commercial installations.

"AEG Power Solutions is pleased to introduce the broadest inverter product line for commercial solar installations," said Susan Wynne, managing director of North America for AEG PS. "By offering 10 models ranging from 15kW to 150kW, customers will not have to overinvest in inverters that are too large for their needs. With our advanced technologies, the MPV inverter delivers increased efficiency and reliability to the commercial solar inverter market."
The MPV inverter has a number of unique advantages:
Greater Flexibility
With AEG PS' introduction of product sizes that other vendors don't offer, photovoltaic (PV) developers now have access to a wide variety of inverter sizes to more accurately match inverters to PV array requirements. The MPV inverter is typically half the footprint and half the weight of similar central inverters so it can be easily deployed on the roof or on the ground. It even fits through a standard door.
Increased Energy Production
Inverter modules are turned on as needed to match the power required and are therefore run at their optimal efficiency. This module optimization, coupled with advanced inverter design and no transformer losses, yields efficiencies greater than 97 percent. With a wide maximum power point tracking (MPPT) range, highly efficient MPPT algorithm, and fast responses to dynamic changes in clear and cloudy conditions, the MPV inverter maximizes energy production.
Dependable Energy Production
In the unlikely event that an MPV inverter module should fail, the inverter will only lose a portion of the production during the maximum power of the day. Modules can be quickly replaced. The MPV inverters are certified to UL 1741 and include surge protection and advanced ground fault protection.
Greater Control
Each MPV inverter has a System Controller that performs overall management, fault control, diagnostics and performance management for the entire inverter system. The MPV inverter also comes with an Integrated Web Server and Remote Monitor application. Once the MPV is connected, customers can obtain detailed system information and performance on any PC, tablet or smartphone that is connected to the Internet. Although a third party monitoring system is not required, MODBUS is supported for external communications. Additionally, an external display and keypad, as well as integrated AC and DC disconnect switches bring control and information to customers, whether on-site or in remote locations.
About AEG Power Solutions
AEG Power Solutions (AEG PS) Group is a global provider of power electronics systems and solutions for all industrial power requirements offering one of the most comprehensive product and service portfolios in the area of power conversion and power control. Two complementary operating business segments, Renewable Energy Solutions (RES) and Energy Efficiency Solutions (EES) serve customers worldwide. The RES product and service portfolio consists of systems and solutions for solar power plants, such as solar inverters, monitoring and control systems as well as power controllers for a wide range of industrial applications such as polysilicon, energy storage, sapphire and glass. The EES product and service portfolio includes high-performance uninterruptable power supplies (UPSs), industrial chargers, and DC systems.
Thanks to its distinctive expertise bridging both AC and DC power technologies and spanning the worlds of both conventional and renewable energy, the company creates innovative solutions for smart grids.
AEG PS' global footprint includes 22 subsidiaries, offices and competence centers around the world with 1,600 employees.
AEG Power Solutions Group is the sole subsidiary of the holding company 3W Power S.A. (WKN A0Q5SX / ISIN GG00B39QCR01), based in Luxembourg. The Group is headquartered in Zwanenburg in the Netherlands. The shares of 3W Power are admitted to trading on Frankfurt Stock Exchange (ticker symbol: 3W9).
For more information, visit www.aegps.com or call 1-877-315-4584.
Featured Product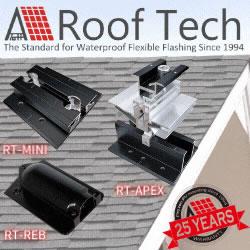 Now Roof Tech brings you the most innovative, watertight mounting systems ever developed for solar photovoltaic systems. Designed and manufactured exclusively for us by Japan's longtime leader in roofing technologies, Roof Tech products are 100% code-compliant and offer fast, simple installation and huge savings on shipping costs due to their compact, rail-less design. Learn more about our full line of versatile PV mounting solutions now available for residential installations. The next generation in rooftop solar mounting solutions."