Intermountain Wind and Solar (IWS) has announced plans to install new Hybrid Energy Systems starting in the Salt Lake City area and expanding to the Western United States over the coming months.
Salt Lake City, UT May 13, 2013

Many Americans have become accustomed to reliable energy provided by their local power grid. But what happens when there are complications, such as natural disasters, snowstorms, and man made disasters?
Time for a new Hybrid Solution from IWS:
IWS, known for their wind and solar power solutions, has introduced a new system that will keep businesses and homeowners out of the dark- even in an emergency. Although their main objective in the past has been to become the premier provider of Utah solar panels, they have recently shifted their focus more to projects such as Idaho backup power. While IWS has quickly made a name for itself as one of the most reliable installers of renewable energy systems in the Western United States, they now want to expand that reputation to emergency systems that provide triple benefits.
These new projects will be providing a series of emergency hybrid systems that not only generate wind and solar power from units mounted on or near buildings; they also store power and can transfer power back to the grid. What this means for commercial and residential energy customers is a self-contained renewable power source for those moments in life when infrastructure crashes. IWS has learned from their extensive experience working on Utah solar panels, which has increased their awareness of the importance of reliable energy sources. This experience has launched the Idaho backup power project that will reinforce the community's interest in these rewarding solutions.
Which members of the community should be most concerned about hybrid systems?
Any entity that is serving the greater good of the public should consider hybrid wind and solar power systems as a means to keep costs low and provide long-term results. When it comes to keeping people alive in hospitals, maintaining constant power to National Defense infrastructure, or ensuring that a home will have heat during the freezing winter months, the hybrid model is extremely valuable. While IWS will continue to work diligently on Utah solar panels projects, they are moving quickly to launch this new Idaho backup power initiative. This will help to reduce energy costs at a time when most businesses and homeowners desperately need to lower their expenses.
While generators had been good solutions for backup energy in the past, the new hybrid systems are a cost efficient means to not only store vital energy in the case of an emergency, but to provide free, renewable energy and reduce costs year round. For more information, please visit: http://www.imwindandsolar.com
Featured Product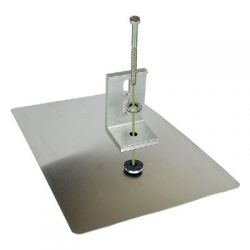 The GreenFasten™ - GF1 system utilizes the patented watertight technology EcoFasten Solar® is known for. The flashing is fit with our EPDM rubber bushing and when used with a compatible EcoFasten Solar compression bracket (milled with countersink), a watertight seal is created, which protects the integrity of the roof. Requiring just a single fastener (lag bolt or self-drilling), GreenFasten provides the fastest install in the industry and will not void roofing manufacturer's warranties. Backed by IAPMO certification, GreenFasten delivers a mounting solution for all new or existing (retrofit) composition shingle roofs, and is the most cost-effective solution available. Like all of the solar roof mount solutions in our line of products, GreenFasten is made in the USA using recycled materials.