The new branch in South Africa is joining the network of international branches owned by this multinational firm supplying PV solar products.
• PROINSO has 13 Qualified Installers in Africa – in Algeria, Senegal, Egypt, Nigeria, Kenya, Namibia, South Africa and Ivory Coast – who are members of the firm's International Network.

• Company sources highlighted the importance of entering the PV solar energy market in South Africa with the support of local partner African Solar Power. The country expects to have about 8,000MW of installed power by 2020.
• Besides Africa, in 2011 PROINSO began to increase business activity in emerging markets like Australia, Brazil, Mexico, India, South East Asia and Japan.
14 May 2013. PROINSO – a leading retailer of PV solar materials – has recently opened a new branch in Cape Town, South Africa, in strategic partnership with local firm African Solar Power. Thanks to this new branch, PROINSO, which has five Qualified Installers in South Africa who are members of its International Network, will be able to strengthen its presence in this solar PV market. The partnership with a local company is a strategic one, since African Solar Power has long experience in the supply and retail of PV systems.
At PROINSO they point at the importance of setting foot on South Africa with the support of African Solar Power, a firm that has been operating in the country for years and has knowledge of local regulations. 'The PV power industry is likely to have a brilliant future in South Africa, which is expected to have more than 8,000MW installed by 2020.' To this we should add that in vast areas of the country there are more than 2,500 daylight hours a year, and daily solar radiation amounts to 4.5 to 6.5kWh/m2 on average.
PROINSO is already familiar with African markets. 13 Qualified Installers are members of its International Network in Algeria, Egypt, Senegal, Ivory Coast, Kenya, Namibia and South Africa as well.
PROINSO's new branch in South Africa adds to those the company has in Greece, Italy, USA, Great Britain, Spain, Canada, China, Australia, India, Brazil, Thailand and Japan.//
PROINSO SOUTH AFRICA
Office address: 45 Oldenland Street, Somerset West 7130
Cape Town, South Africa
Phone number: +27 0 21 526 0461
Email address: southafrica@proinso.net
ABOUT PROINSO www.proinso.net
An OPDE Group subsidiary, PROINSO specialises in the supply of PV modules, solar kits, inverters, structures and solar trackers, solar solutions for urban applications in public areas, vehicle recharging stations, self-consumption installations, stand-alone PV power systems and monitoring systems.
PROINSO had delivered a total 1,115MW around the world, a record high that turns it into one of the world's leaders in the sector, and the International Network of Qualified Installers, currently comprising more than 2,360 members, played a key role in this achievement.
With international markets accounting for 88% sales, PROINSO has offices in Spain, Germany, Greece, Italy, USA, Great Britain, Canada, China, Australia, Japan and India. Recently, the company opened a new branch in South Africa..//
Featured Product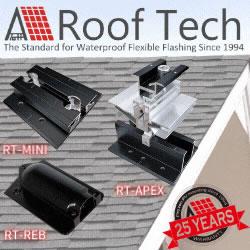 Now Roof Tech brings you the most innovative, watertight mounting systems ever developed for solar photovoltaic systems. Designed and manufactured exclusively for us by Japan's longtime leader in roofing technologies, Roof Tech products are 100% code-compliant and offer fast, simple installation and huge savings on shipping costs due to their compact, rail-less design. Learn more about our full line of versatile PV mounting solutions now available for residential installations. The next generation in rooftop solar mounting solutions."