It's a pivotal time for solar energy in the state of RI and one company has earned the right to build 3 of the 6 National Grid commercial solar projects in RI, as part of National Grid's Rhode Island Renewable Distribution General Standard Contract awards.
New Bedford, MA – The Narragansett Electric Company d/b/a/ National Grid opened the next round of the Rhode Island Renewable Distribution General Standard Contract enrollment process in March 2013. Thirty-five projects submitted applications and National Grid selected six winning projects on April 8th. Half of the six projects awarded were commercial solar systems designed and engineered by Beaumont Solar. Collectively, the projects represent nearly 800kW of solar energy that will soon produce clean, renewable energy in Rhode Island. In addition to the 500kW currently under construction, Beaumont Solar Co. now becomes a key player in the Rhode Island market with ~1.3MW underway.

"We anxiously awaited the award announcement and were thrilled when we heard three of our clients' projects were selected," said Phil Cavallo, president & CEO of Beaumont Solar, a full-service engineering, procurement and construction (EPC) company. "Projects installed under this Rhode Island DG Standard Contract program are different than a typical solar system, in that the power is not net metered and credited directly to a customer's electric bill. Instead, the solar system is providing power directly to the grid so the system owner is, in essence, selling the power directly to National Grid at a 15-year fixed contracted price per kilowatt hour (kWh)."
As a full-service EPC company offering total vertical integration, Beaumont Solar will now install and maintain the systems.
Gannon & Scott, a precious metals refining and reclamation company, headquartered in Rhode Island since 1919, will own one of the projects awarded in this first block of enrollment for 2013.
"We are pleased that this collaborative effort with Beaumont Solar has resulted in the award of a solar energy contract by National Grid in the latest round of Rhode Island Distributed Generation facility awards", says Gannon & Scott General Manager Joe Peixoto. "This solar project is further evidence of our company being a responsible steward of the environment and reinforces our corporate commitment to 'Doing it Right.'"
The second system Beaumont Solar has been awarded is for a 80,000-square-foot facility of All American Foods, Inc., Rhode Island's largest independently owned broadline food distributor.
"All American Foods Inc. is excited to be accepted in the Rhode Island Distributed Generation program. We look forward to working with Beaumont Solar and supplementing our electrical needs," says Leon Panteleos, president of All American Foods.
Newport Vineyards and Winery, LLC, is the owner of the third system awarded. Renowned for the fine wines from the vineyard's 50 acres of premiere vines, the company will now utilize solar power in their environmentally friendly operations.
"Incorporating solar into our winery expansion is a perfect fit," said Owner and Vintner John Nunes, Jr. "The addition of solar is one more green feature that will assist us in our goal to remain environmentally sensitive from the vineyard to the bottle."
To be eligible to apply for the Rhode Island DG block, all projects were required to submit a complete design and interconnection package to National Grid. Applications were then screened for permitting, construction and likelihood of financing, in order to select those projects most feasible to be brought online within the next 18 months, which includes time for utility impact studies.
"We believe that our vertical integration provides the streamlined, reliable and cost-effective projects that were the focus of this award," said Cavallo. "Our team is very gratified to have won three of the six projects awarded and look forward to bringing them to fruition. It's an exciting time to be in the solar industry."
About Beaumont Solar Company
Beaumont Solar is one of the emerging leaders in the solar market by providing a streamlined, vertically integrated solution for customers, utilizing 100% in-house staff. This philosophy allows Beaumont Solar to be at the highest quality standards and at the lowest price or lowest levelized cost of energy (LCOE). For more information, visitwww.beaumontsolarco.com.
Featured Product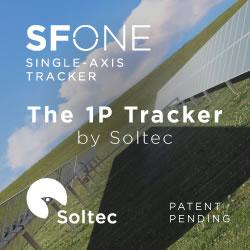 SFOne is the 1P single-axis tracker by Soltec. This tracker combines the mechanical simplicity with the extraordinary expertise of Soltec for more than 18 years. Specially designed for larger 72 an 78 cell modules, this tracker is self-powered thanks to its dedicated module, which results into a lower cost-operational power supply. The SFOne has a 5% less piles than standard competitor, what reduces a 75% the labor time.