Inaugural Small Wind Month Celebrates Impact of This Vital Industry
Flagstaff, Ariz., May 14, 2013 - As the Distributed Wind Energy Association

(DWEA) heads into the first annual Small Wind Month this June, it is amidst
a backdrop of growing domestic support and industry growth. According to a
2013 Gallup poll, no fewer than two in three Americans - 71 percent - want
the U.S. to put more emphasis on producing domestic energy using wind power.
Small Wind Month was created by DWEA to showcase the growing number of
homes, farms, schools and businesses using distributed wind energy as an
energy resource. The month will be used as a means to drive awareness for
millions of Americans who may not be aware of the benefits of distributed
wind, but may be interested in adopting clean, renewable energy as part of
their everyday lives.
"With more than 90 percent of the world's small wind turbines sold and built
in America in 2012, the distributed and community wind market is a powerful
player in our domestic energy market," said DWEA Executive Director Jennifer
Jenkins. "Small wind not only helps to power our homes and business, but
fuels growth in the local job market as well."
To mark the special month, DWEA members and regional communities will be
participating in a series of distributed and community wind events taking
place across the U.S., during which they will advocate for policies that
support the expansion of the industry and celebrate the many benefits of
small wind energy. The following distributed and community wind events are
open to the public to attend:
Why Roc (TV Segment) - On Monday, May 20, CBS Channel 8, WROC-TV in
Rochester, N.Y. will feature Kevin Schulte, DWEA member and Chief Executive
Officer of Sustainable Energy Developments, Inc.
The Distributed Wind Expo '13, June 11 - 12, Rochester, N.Y.
This conference hosted by DWEA in partnership with the American Wind Energy
Association will take place in Rochester, N.Y. The two-day agenda includes
consumer tracks to educate potential customers; business tracks to advise
industry on important issues, such as technical and policy updates; on-site
wind tours; and an exhibit hall highlighting the industry's leading
technologies and vendors.
The 9th Annual Small Wind Conference, June 18 - 19, Stevens Point, Wisc.
The 9th annual gathering of small wind installers, manufacturers, dealers,
distributors, educators, small wind site assessors and advocates will take
place at the Holiday Inn and Convention Center in Stevens Point, Wisc.
Before and after the two-day conference, there will be a variety of side
meetings and workshops in which participants can develop professional
credentials, expand education and training, and take part in exceptional
networking and business opportunities.
The Energy Fair, June 21 - 23, Custer, Wisc.
Each year the Midwest Renewable Energy Association's Energy Fair transforms
rural Central Wisconsin into the global hot spot for renewable energy
education. The Energy Fair brings more than 20,000 people from nearly every
state in the U.S. and several countries around the world to learn, connect
with others and ready them for action at home. The Energy Fair is the
nation's longest running energy education event of its kind.
About the Distributed Wind Energy Association
The Distributed Wind Energy Association is a collaborative group comprised
of manufacturers, distributors, project developers, dealers, installers, and
advocates, whose primary mission is to promote and foster all aspects of the
American distributed wind energy industry. Distributed wind, commonly
referred to as small and community wind, is the use of typically smaller
wind turbines at homes, farms, businesses, and public facilities to off-set
all or a portion of on-site energy consumption. DWEA seeks to attract
members and associates from all sectors with relevant interests pertaining
to the distributed wind industry. For more information on DWEA, please go to
www.distributedwind.org. Follow us on Twitter @DWEA, find us, like us and
connect with us on Facebook and LinkedIn by searching Distributed Wind
Energy Association.
Featured Product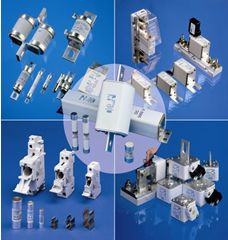 SIBA Fuses: your trusted source for all your circuit protection applications, from solar power to wind power. We are the world leaders in these applications and the most trusted name for your circuit protection needs. We have been working for over 70 years in semiconductor fuses, including ULTRA RAPID®, medium, and high voltage, standard European, miniatures, electronic fuses, and a wide range of DC rated fuses (24 VDC - 5000 VDC) for all types applications. We work with medium and high voltage fuses for protection of transformers, including submersibles, motors, medium and high voltage switchgear, compact substations, cable feeders, and high voltage capacitor circuits. New: Full line of PV UL Listed fuses and fuse holders. Contact us today for more information on our products and services.