A Scottish technology start-up has invented groundbreaking 3D software that could revolutionise the planning process for wind farm developments
Created by Stirling-based Linknode, 'VentusAR' is a tablet-based app which allows developers and planners to see an augmented reality, animated vision of their project while standing on the proposed site. The unique piece of software will be launched at the All Energy Conference in Aberdeen on May 22-23.

The company, which has been helped by Business Gateway Stirling, believes the application will enhance the wind farm development and planning process for a workforce that is increasingly mobile, reducing time spent and costs. The product also has the potential to be used in sectors such as Architecture, Culture & Heritage and Retail.
Crispin Hoult, Managing Director of Linknode, said: "People have never been able to go into the field with dynamic visualisation before. Currently the process of using photomontages involves taking paper drawings on site, trying to relocate a position and match the visual impression with the landscape as seen from that location. What VentusAR offers is a more flexible, integrated, efficient and dynamic companion tool for visual impact assessment.
"What our tablet application allows users to do is download a 3D map of the site along with an accurately located model of a proposed wind farm. In the field you can see on screen an augmented reality view of what a development will actually look like. If you want to see it from a different angle all you have to do is point the tablet in that direction. Alternative models can be easily downloaded allowing different layouts or turbine heights to be interactively viewed instantly from any location.
"We understand the planning system and that visualisation is one of the biggest and most contentious issues for renewables projects, but up until two years ago the hardware wasn't available to produce VentusAR. However, technology and our understanding of it has advanced and Linknode have integrated our knowledge of geography and geospatial data management to produce an app that no-one else has."
Linknode, which is based in Wellgreen Lane, Stirling, was set up by Hoult in 2011 to provide online digital mapping services to a range of clients. Projects include development and support for Scottish Government e-Planning systems and Open Source solutions for local authority planning.
He said: "When we started looking at innovation grants for VentusAR in 2011 we were told to speak to Business Gateway first. They immediately saw potential in what we wanted to do and organised a strategy workshop that helped us focus. Market development support has also assisted us in securing funding to attend trade shows and take on someone whose sole purpose is to prepare for exhibitions and be our 'public face'. Ultimately their assistance helped us secure a SMART: Scotland Award in January. This has allowed us to undertake research, that otherwise would have been too risky to fund ourselves and will go towards the development of future VentusAR functions including archaeological visualisation."
Caroline Brown, Business Adviser, Business Gateway said: "Crispin's company has produced a product that could fundamentally change the planning process, not only simplifying it for planners and developers, but also help the public easily visualise large scale development projects that often cause fear and confusion. By accessing free, impartial advice Crispin has been able to grow his company quickly, from two employees to having just taken on his sixth, and get ahead of where he had planned to be. Securing funds to attend trade shows and bring on a 'public face' has been fundamental in helping him validate VentusAR while the SMART: Scotland Award will fund 75 per cent of feasibility and R&D over a 10 month period."
For more information on how Business Gateway can help your business grow and prosper visit www.bgateway.com or call 0845 609 6611. Alternatively contact your local office on 01786 463416.
Featured Product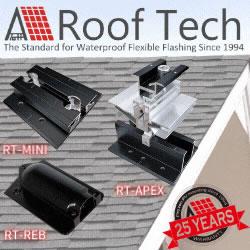 Now Roof Tech brings you the most innovative, watertight mounting systems ever developed for solar photovoltaic systems. Designed and manufactured exclusively for us by Japan's longtime leader in roofing technologies, Roof Tech products are 100% code-compliant and offer fast, simple installation and huge savings on shipping costs due to their compact, rail-less design. Learn more about our full line of versatile PV mounting solutions now available for residential installations. The next generation in rooftop solar mounting solutions."