The 1st edition of LASER World of PHOTONICS INDIA consolidated its position as India's number 1 platform for the laser and photonics community. The exhibition played host to 128 exhibitors and 2,688 trade visitors. The trade fair also witnessed a parallel seminar on "Laser Basics and Applications".
Second Edition of LASER World of PHOTONICS INDIA gains confidence from Government of India
Mumbai, May 2013: The 1st edition of LASER World of PHOTONICS INDIA consolidated its position as India's number 1 platform for the laser and photonics community. The exhibition played host to 128 exhibitors and 2,688 trade visitors. The trade fair also witnessed a parallel seminar on "Laser Basics and Applications".
LASER World of PHOTONICS INDIA brings together various industrial sectors, mainly manufacturing, electronics, processing, communication, medical technology and general lighting in an energy efficient and sustainable use of laser and photonic solutions and also creates a networking platform for them. Recognizing the efforts, the Government of India: Ministry of Communication and Information Technology, Department of Electronics & Information Technology (DEITY) and Ministry of Micro, Small and Medium Enterprises (MSME) has extended its support to LASER World of PHOTONICS INDIA. This support will enhance the value for exhibitors, visitors and delegates alike. LASER World of PHOTONICS INDIA is scheduled to take place from November 12-14, 2013 at Bombay Exhibition Centre (BEC), Mumbai.
Dr. (Mrs.) Niloufer Shroff, HoD, EMCD Division - DEITY, extending her support to the trade fair, said, "At LASER World of PHOTONICS INDIA 2013, I would look forward to industry expressing what they would need from the scientific instructions and academics in the form of R&D so that government support in this area can be more focused on realistic expectation".
Today many of the industrial verticals require precision and quick turnaround of their process. This process can be accelerated by modern technologies. One of the most efficient ones is the laser and photonics technology, owing to tremendous power, flexibility, speed and quality of execution. Laser and photonics already play a large part in the strategic, consumer and communication fields in India. Photonics is a key enabling technology and is essential in a wide range of systems. Fibre optics and photonic switching multiplexing and networking form the backbone of all high speed communication that keeps our world connected today.The growing numbers of practical applications of photonics make it an important field both for research and commercial development. Lasers are essential in the industry ranging from material processing (for jewellery to automobile manufacturing) to medical diagnostics and therapy.
With the feedback from its key exhibitors and visitors last year, and considering the need to provide impetus to industry requirements, LASER World of PHOTONICS INDIA will introduce two additional product categories: Biophotonics and Medical Engineering and Optical Information and Communication. Biophotonics and medical engineering involves the development and use of optical technologies to examine and manipulate biological systems on the sub-cellular, cellular, tissue and organ levels to diagnose, analyse, and develop therapeutic systems of the 21st century for treatment of medical ailments. Considering the double digit advancement in the communication sector, the stream on optical information and communication will be a platform to bring industry stakeholders together.
Supporting LASER World of PHOTONICS INDIA, Dr Arvind Patel - Managing Director, Sahajanand Laser Technologies, says: "LASER World of PHOTONICS INDIA is a pioneer laser exhibition of India. Last year had seen huge enthusiasm among manufacturing industry as well as research institutes. This exhibition brings in buyers across whole spectrum of the industries looking for future technologies. A need to improve the existing process system and substitution of technology has always been a driving force in the growth of laser application. The trade fair will give laser and photonics technology its own national platform and improve its level of recognition in the Indian industry. Additionally, it will be a unique opportunity for the laser and photonics industry of India to tap the immense global knowledge and also elevate its global potential. "
About MMI India:
As part of its international strategy, Messe München founded its own affiliated company in India with a registered office in Mumbai, in September 2007. MMI India Pvt. Ltd. has been founded to provide Messe München with timely and competent organisational support for its increasing involvement in India.
With 6 subsidiaries abroad - in Europe and in Asia - and 67 foreign representatives covering 10 countries, MMI has a network that spans the globe.
About LASER World of PHOTONICS & LASER World of PHOTONICS INDIA:
The LASER World of PHOTONICS trade fairs and their congresses are the most important marketplaces and think tanks of the global laser and photonics industry and its users. They combine research and application and promote the use and ongoing development of optical technologies.
Messe München International has staged LASER World of PHOTONICS every two years since 1973. The World of Photonics Congress takes place in parallel, the largest Photonics Congress in Europe with the active involvement of the world's leading organisations.
LASER World of PHOTONICS INDIA revolves around innovative products as well as their industrial solutions and applications, which reflects actual developments in the industry around the world. LASER World of PHOTONICS INDIA intends to boost growth of the Indian laser industry by focusing on the industry's leading technologies. It offers opportunities to exhibitors and visitors alike.
Featured Product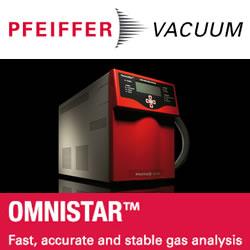 The Pfeiffer Vacuum OmniStar benchtop analysis system offers you a compact footprint, powerful software and Ethernet connectivity. It's the optimum solution for many real-time gas analysis applications. With the OmniStar, Pfeiffer Vacuum offers you a complete solution for gas analysis, in chemical processes, semiconductor industry, metallurgy, fermentation, catalysis, laser technology and environmental analysis. The turnkey OmniStar gas analysis system consists of heated, temperature-regulated gas inlet system, Quadrupole mass spectrometer, a dry diaphragm vacuum pump and HiPace turbopump. Unlike competing methods such as FTIR, OmniStar is suitable for qualitative and quantitative analysis of most gases.