Infographic by RevoluSun Explains State's Solar Market Growth and Economic Drivers
BURLINGTON, Mass. & NEWTON, Mass.--As the cost of fossil fuels rises, the cost of renewables declines, with solar leading the way for homeowners. With its eco-conscious population, a growing number of options for going solar, and enticing Federal and state-level incentives, Massachusetts now ranks 6th nationwide for overall solar production. In fact, residential solar installations more than quadrupled between 2010 and 2012. This Massachusetts CEC data, along with economic factors driving the trend in solar purchases, is outlined in a new solar infographic released today by RevoluSun.

RevoluSun has installed more than 3,500 residential photovoltaic (PV) systems and is helping Bay State homeowners seize this perfect storm of opportunities by making it easy to lease or purchase a custom solar system. More and more residents are opting to buy their system in order to realize the greatest electric bill savings and receive income from solar credits. A solar purchase is also often a way for eager homeowners, whose roofs don't fit the stringent specs that a solar lease requires, to actually "go solar."
Framingham resident and genetic counselor, Judy Jackson explains, "I always wanted solar panels. After hours of research and scrutinizing every detail and option, I realized how much we would save in electricity costs in addition to the money that would be generated from solar renewable energy credits (SRECs) during the next 10 years. We made the leap and bought 24 high-efficiency solar panels, which cost nearly 40% less after the tax credits and rebate."
"We have already seen huge returns, greater than RevoluSun estimated, indicating the system is well on its way to helping us financially. Since late January, even with our snowy winter, we produced about 3,000 Kw hours of energy. That's enough for three SRECs, which have an estimated value of $285 each at the Department of Energy Resources auction," added Ms. Jackson.
"Massachusetts is adopting solar so quickly that Governor Patrick just announced a new State goal: 1,600 megawatts of solar capacity by 2020 – enough to power 240,000 homes annually," stated Kip George, President of RevoluSun's Burlington office. "Mass has the 7th highest electricity rates in the U.S. but at the same time, Federal and state incentives are tremendous and utilities must meet annual goals for solar electric production, so they're eager to leverage residential solar power."
Today's solar electric panels are guaranteed for 25 years but are expected to last 40 years. At current electricity prices, a solar system pays for itself in six-to-eight years, depending on market conditions. For a typical Massachusetts homeowner, the lifetime energy savings average $76,200.
"Timing and incentives have never been better for Massachusetts homeowners to go solar. We're hiring as fast as we can to keep up with demand for solar education and installation in the greater Boston area," said Doug Pierce, GM of RevoluSun's Newton office.
About RevoluSun
An award-winning solar integrator, RevoluSun makes solar energy an affordable, attractive option for every homeowner and business. RevoluSun is revolutionizing solar and has designed and installed thousands of photovoltaic projects that generate more than 30 MW of energy – bringing cleaner, smarter energy to communities one rooftop at a time. Headquartered in Honolulu, with offices in Newton and Burlington, Massachusetts, RevoluSun delivers the highest quality of service, technology and design in renewable energy. For more info, visit www.massachusetts.revolusun.com, follow the company on Twitter @RevoluSun or call 617.969.8888 or 781.270.6555.
Featured Product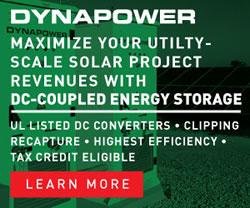 The addition of energy storage to an existing or new utility-scale PV installation allows system owners and operators the opportunity to capture additional revenues. Traditional storage plus solar applications have involved the coupling of independent storage and PV inverters at an AC bus or the use of multi-input hybrid inverters. An alternative approach - coupling energy storage to PV arrays with a DC-to-DC converter - can help maximize production and profits for existing and new utility-scale installations. DC-Coupled Utility-Scale Solar Plus Storage leads to higher round-trip efficiencies and lower cost of integration with existing PV arrays and at the same time, opens up new revenue streams not possible with traditional AC-coupled storage, including clipping recapture and low voltage harvesting, while being eligible for valuable tax incentives.