The anticipated fall will represent the lowest level of spending since $2.4 billion in 2006.
El Segundo, Calif. (May 21, 2013)—Although global capital spending this year in the photovoltaics (PV) supply chain is expected to fall to its lowest level since 2006, indications signal that the downturn in investment has hit bottom and that purchases of equipment may soon rebound.

Capital spending among PV companies is set to drop to $2.3 billion in 2013, down 36 percent from $3.6 billion in 2012, according to the PV Manufacturing & Capital Spending Tool from information and analytics provider IHS (NYSE: IHS).
The anticipated fall will represent the lowest level of spending since $2.4 billion in 2006. It also marks the second year of decline after the market peaked in 2011, as spending plunged by 75 percent in 2012. However, capital expenditures are expected to rebound in 2014, rising 30 percent to $3.0 billion.
"Companies across all nodes of the PV business have been lowering utilization rates and letting manufacturing lines go idle for the past year and a half," said Jon-Frederick Campos, solar analyst at IHS. "PV firms have been doing this in an effort to counter overcapacity and mitigate declines in average selling prices (ASP). This phenomenon resulted in a major plunge in spending on new manufacturing equipment in 2012 and so far in 2013. But with prices stabilizing and manufacturing on the rise in some segments of the PV market, signs are appearing that that the drop in capital spending may be coming to an end."
The PV supply chain consists of suppliers of modules, cells, ingots, wafers and polysilicon.
2012: Solar apocalypse
Prior to 2012, the solar industry had been ramping up production, with many companies focused on achieving higher cell and module efficiency. As a result, companies added multiple steps to their manufacturing processes.
Such a move, however, resulted in an increase in capital expenditures, followed by a rise in operational outlays. Then as overcapacity, the supply glut and a pricing plunge took center stage during the last 18 months, companies suddenly had to backpedal and reduce their number of manufacturing steps.
During this stage, every reduction in cost became crucial to support weakening profit margins. Companies that didn't follow suit went out of business.
The solar cycle
The worst seems to be over for now, as indications are appearing that the downturn in capital spending has bottomed out. The industry is set for an upswing, as spending is expected to finally return in the near term. The past quarter, for instance, saw new manufacturing sites and an increase in production occurring in Latin America, the United States and the Asia-Pacific region.
"At some point in the near future, the industry will come full circle," Campos said. "The solar market underwent a boom, and then victimized itself with its own rapid success. But once the dust settles, the industry will come out stronger in its operations, financials and technology. The rest of the year may very well determine which companies will retain significant market share and solidify their place as the industry leaders."
Turning the tide via technology?
With so much free capacity on the secondary PV markets, equipment suppliers are concerned about the further suspension of equipment purchases. While many companies still doubt that the decline in equipment spending is over, IHS notes that an evolution within the industry will force companies to step up capital expenditures and focus on new technologies to improve efficiency.
"Solar has transitioned from the technology-oriented stage into an energy-focused phase," said Michael Sheppard, senior solar analyst at IHS. "PV companies are eager to serve those customers adapting to new developments such as rebate programs, feed-in tariffs and other solar incentives. The industry, for its part, is reinventing itself and investing in equipment to help customers accommodate these new realities."
And while PV suppliers frequently released new technologies a few years ago, such a strategy today would spook investors. True, new technologies are still being developed, but they now are used a means to solve critical industry challenges, such as lowering the levelized costs of energy.
"Technology is crucial to the PV industry's revival," Sheppard said. "Improved technologies will cut costs, increase margins and ultimately allow companies to distinguish themselves from competition. Such a virtuous cycle creates an opportunity for both manufacturers and equipment suppliers to revamp their revenue streams."
Capital shifting
Overall, IHS forecasts a strong decline in spending on concentrated solar power (CSP) and thin-film technology manufacturing capacity.
Capital investments, meanwhile, will transition into ingoting, wafering and module equipment. Areas of interest may include direct solidification and epitaxial silicon, both of which eliminate the cost and waste incurred by current wafer sawing techniques. Quasi-mono silicon ingot growth, for instance, is an alternative that significantly reduces wafer production costs. Also, big developments in cell technologies will focus on variants of back-side contact and anti-reflective coatings (ARC).
All of these technologies are poised to grow their market share and help manufacturers attain more cost-effective operations.
About IHS (www.ihs.com)
IHS (NYSE: IHS) is the leading source of information, insight and analytics in critical areas that shape today's business landscape. Businesses and governments in more than 165 countries around the globe rely on the comprehensive content, expert independent analysis and flexible delivery methods of IHS to make high-impact decisions and develop strategies with speed and confidence. IHS has been in business since 1959 and became a publicly traded company on the New York Stock Exchange in 2005. Headquartered in Englewood, Colorado, USA, IHS is committed to sustainable, profitable growth and employs 6,700 people in 31 countries around the world.
Featured Product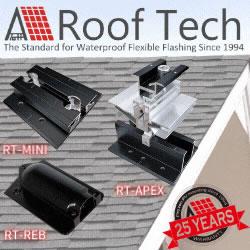 Now Roof Tech brings you the most innovative, watertight mounting systems ever developed for solar photovoltaic systems. Designed and manufactured exclusively for us by Japan's longtime leader in roofing technologies, Roof Tech products are 100% code-compliant and offer fast, simple installation and huge savings on shipping costs due to their compact, rail-less design. Learn more about our full line of versatile PV mounting solutions now available for residential installations. The next generation in rooftop solar mounting solutions."